Digital transformation to create new growth engine for Vietnam's agriculture
As digital transformation will help overcome most of the weaknesses faced by the local agriculture sector, it should be considered a breakthrough solution for sustainable growth and development in Vietnam.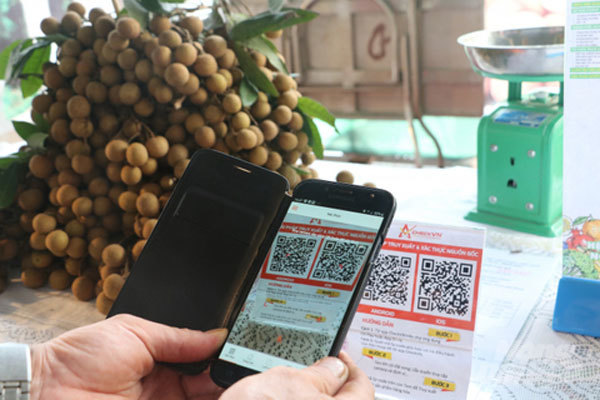 More than 2,200 cooperatives, accounting for 12 per cent of cooperatives across Vietnam, have applied digital technology in agricultural production. — nongnghiep.vn
The idea was shared among 300 attendees at a meeting on digital transformation in agriculture and rural areas under the Vietnam Industry 4.0 Summit in Hanoi on November 17.
Le Vu Minh from FPT Corporation, told the online meeting, held by the Economic Committee of Vietnam and the Ministry of Agriculture and Rural Development, that Vietnam has many agricultural products ranked top in terms of output, such as rice and coffee, but in terms of value per volume and productivity per production unit, the position of Vietnamese products are far behind other countries.
Minh said: "It is time to develop the growth and value of the agricultural industry, making them no longer rely on output, but rather on production with digital transformation as a supporting position for the economy."
He said the digital transformation strategy in agriculture was a long way away in terms of cooperation between businesses and state management agencies, adding: "First of all, the country can start with traceability for agricultural products, transparency of information in production, creating trust for consumers as a commitment to product quality."
Attending the meeting, Azizz Elbehri, senior expert of the Food and Agriculture Organization United Nations (FAO), introduced the initiative of 1,000 smart digital villages that have been deployed in the Asia-Pacific region.
In this initiative, the governments of the countries build a digital technology ecosystem to create smart villages with internet access, improving the level of IT, digital technology and stimulating demand for digital services, improving the lives of people in rural areas.
Azizz Elbehri said in Vietnam, FAO is coordinating with the Institute of Policy and Strategy for Rural Development to closely follow the national digital transformation strategy in association with the smart digital village project, providing translation products and digital services for people in the military and districts and creating an environment to develop digital services for rural areas. 
Building transparent agriculture in terms of data
Deputy Minister of Agriculture and Rural Development Phung Duc Tien said that the agricultural industry was transforming from traditional to digital, using the internet to collect data, using management software for farm work and optimising the use of agricultural resources such as water and fertiliser.
Tien said currently, the horticulture industry is using software to analyse data about the environment, the growth stage of the plant, allowing access and monitoring of these parameters in real time. The livestock industry is applying blockchain biotechnology in large-scale farms, adding that some large enterprises such as VinEco, Hoang Anh Gia Lai, Nafood and Dabaco have applied high technology in production, distribution and consumption of products.
Tien estimated that more than 2,200 cooperatives, accounting for 12 per cent of cooperatives across Vietnam, have applied digital technology in agricultural production.
"We are focusing on digital transformation in the agricultural industry, considering it a breakthrough solution to create a new driving force for growth and development of the industry with a focus on building a data- and information-transparent agriculture that is responsible to the producer and the consumers," Tien said.
At the same meeting, Nguyen Duy Hung, deputy head of the Central Economic Commission, said to develop hi-tech and smart agriculture, Vietnam must build a large database incorporating information on land, environment, cultivation, husbandry, fisheries and weather. It must also foster the automation of production, business environment, e-commerce, planning management and market forecasting.
Hung said: "Through surveying many agricultural production models, digital transformation is a solution to help them closely manage input materials, save costs and increase profits."
Hung considered transformation as an effective solution to overcome inherent weaknesses such as small, fragmented and unconnected production.
Despite the advantages, Hung said many experts found that the local agriculture sector and rural areas did not have a digital platform or a comprehensive digital connection chain. They suffered a lack of a large database for production, a lack of connection and information sharing at all stages of production, management, logistics, and trade in agricultural products.
Hung said the committee would absorb all the comments as a basis to develop and propose programmes, plans and strategies to implement digital transformation in agriculture and rural areas, adding it would renovate mechanisms and policies to maximise the participation of the private sector in investment, scientific and technological research and development of technological services in agriculture and rural areas.
Source: Vietnam News

Digital transformation will help connect consumers and farmers, by allowing them to witness the cultivation and distribution process together.

Growing tomatoes via smartphones and sitting on the top of mountain selling vegetables to the US from a distance are what some Vietnamese farmers are doing today.