Developer portfolios in restructure phase
Real estate developers are actively restructuring their products towards mid- and low-end segments to be more suitable to the real demands of the market.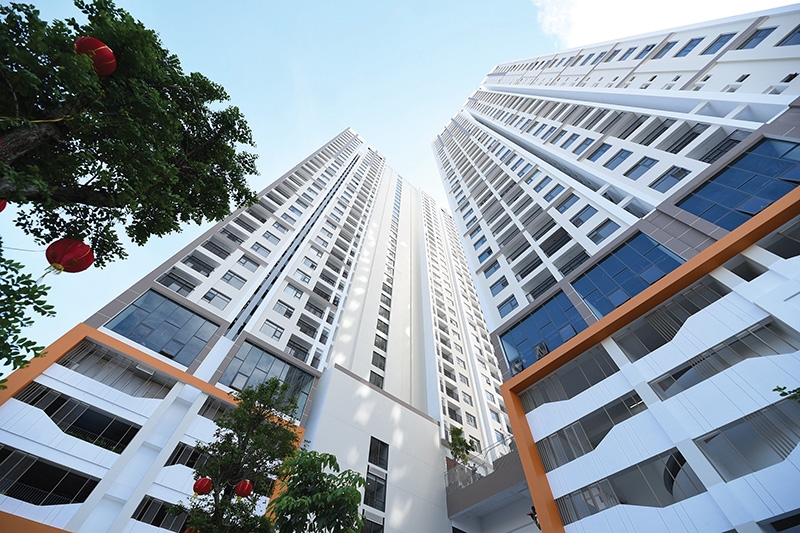 Less affordable housing is currently leading to price hikes, photo Le Toan
According to Nguyen The Nhien, deputy general director of Hung Thinh Land, the group has had to scale down its business due to the pandemic, and is carrying out more market research into its investment strategy. "We are changing in the three key fields of developing more affordable products, offering reasonable price, and phasing out processes of payment to clients," Nhien said.
According to the Ministry of Construction (MoC), the structure of real estate products in the Vietnamese market now is not sustainable with less proportion of affordable products, while this is now occupying the highest demand from buyers.
In 2020, 65 per cent of launched products in Ho Chi Minh City consisted of high-end and luxury grade products. In Hanoi, around 70 per cent belongs to the mid-end and upper segments.
Le Hoang Chau, chairman of the Ho Chi Minh City Real Estate Association, told VIR that the product's supply is unbalanced. "The demand of affordable units (those under $1,000 per square metre) is now very high; however, the supply is now at around 22 per cent of the total market," Chau said.
He added that the mid-end unit ranging from VND25-40 million ($1,000-1,700 per square metre) is occupying around 45 per cent and the high-end segment over $1,700 is occupying less than 40 per cent. The remainder only belongs to low-end and affordable housing.
"We have many times suggested that developers restructure their project portfolios moving towards affordable products, low-cost housing, and social housing," Chau said.
Such affordable housing is a key segment for the market, which has the highest liquidation because it can meet the major demand from buyers. The developers however are less interested in the segment due to high costs alongside lower returns of benefit on offer.
"It is hard for us to offer affordable products because we are bogged down in bureaucratic procedures," said a representative from one developer in the country.
The lack of affordable housing has led to price hikes and fewer opportunities for mid-income earners to own accommodation.
Many developers have now expanded their portfolios to the outskirts and satellite towns of Hanoi and Ho Chi Minh City, where land funds are more readily available.
In Hanoi, with a range of bridges planned to be set up across the Red River, areas such as Vinh Phuc, Bac Ninh, Bac Giang, and Hung Yen are becoming primed for many affordable projects. In Ho Chi Minh City, Dong Nai, Long An, Binh Duong, and Lam Dong are also becoming magnets for many developers.
According to Kiet Vo, associate director at CBRE Vietnam, satellite cities and provinces are chosen by many developers where the land and demand is available.
"Projects are moving to these locations where developers can have project sites easier and the demand for mid-end to affordable housing is high," Kiet said.
Meanwhile Nguyen Xuan Thanh, public policy lecturer at Fulbright Vietnam, cited that in the next five years, apart from the land available, an improved infrastructure system will kick off industrial and tourism properties, as well as speed up industrialisation for areas neighbouring the major cities.
"This is a big push for developing real estate market in satellite cities and provinces," Thanh said.
The MoC is now completing a resolution to encourage lower cost housing development, which will then go on to the government for approval.
"The limited supply of affordable housing is driving up prices in the whole market, especially as new supply continues to be restricted by the review process and demand keeps rising," said Nguyen Van Dinh, vice chairman of the Vietnam National Real Estate Association. VIR
Bich Ngoc

With the economy been hit hard by Covid-19, the HCM City real estate sector has been facing difficulties. However, there are still bright spots.

The first major signs of a resumption of investment activity have emerged in the real estate market with new brand names entering and others expanding their portfolios in Vietnam.