Despite imports from Thailand, pork prices are still going up before Tet
More than 500,000 pigs have been imported from Thailand since June 2020. However, the pork price has been rising to VND78,000-85,000 per kilogram in the lead-up to the Tet holiday.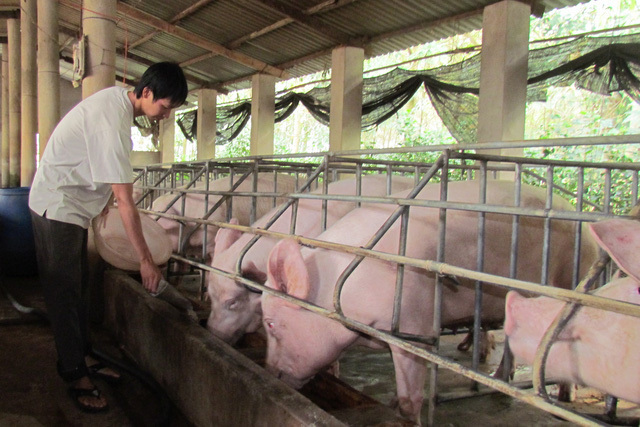 Nguyen Van Trong, deputy director of the Department of Livestock Production, on January 14 told the press that total meat output in 2020 had reached 5.37 million tons, including 3.8 million tons of pork.
As of the end of December, Vietnam had 27.3 million pigs. Pig refarming after ASF (African swine fever epidemic) has gone well throughout the country. Sixteen provinces have reported over 100 percent refarming and increase in the herds of pigs.
Pork supply began increasing in late Q3 and early Q4, which forced the prices down to reasonable levels.
However, there have been signs of pork prices increasing again due to the sharp rise in demand. The last days of the 11th month and early days of the 12th month of the lunar year are the time that processors collect meat in large quantities to process sausages and pork pies. The demand at this time is the highest of the year.
Live pigs are now selling at VND78-85,000 per kilogram. Trong said the prices may continue increasing for days, but they won't be as sharp as seen in 2019, because the supply is plentiful.
The current prices are good enough for producers, suppliers and consumers. In Q2 2020, one breeder pig was sold at VND2.5-3 million. Meanwhile, the epidemic prevention costs have also increased. The production cost therefore has increased to VND70,000 per live kilogram on average.
Asked about the pork supply for Tet holiday, Trong said the demand would increase by 10-15 percent, but shortages won't occur. Suppliers have prepared big inventories for Tet.
For example, one livestock company, which sells 15,000-17,000 pigs a day, will sell 18,000 pigs a day for thexTet holiday.
However, in order to ensure sufficient supply, appropriate agencies and local authorities need to intensify their control over the illegal export of pigs to China.
Pork demand is very high in China and the price in China has doubled. Some sources said that Vietnam's pigs have been carried across border gates to China. Some enterprises import pigs from Thailand for re-export to China.
In 2020, Vietnam imported 226,000 tons of pork of different kinds, a 260 percent increase compared with 2019. The imports were mostly from Russia, Poland, Brazil, Canada, the US, Germany and Spain.
Since early 2021, Vietnam has imported 600,000 tons of pork to increase the supply to prepare for the Tet holiday. 
Tam An

Vietnam spent VND5 trillion ($214.78 million) to import pork in the first nine months of the year, leading to a drop in prices.

The imported pork and declining meat consumption have pushed pork prices down, helping stabilise the consumer price index.