Delivery franchises booming in Vietnam

Delivery units operating under the franchise mode have been expanding thanks to the strong development of e-commerce.
Obtaining a franchise license from a domestic logistics firm in Ninh Binh in early 2019, Nguyen Thai has developed a network of delivery units covering all districts in the province.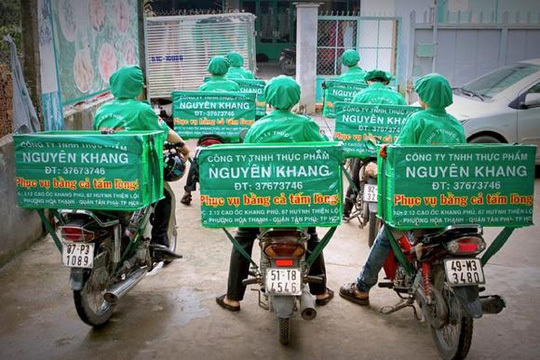 Thai's business has more than 900 clients, mostly shops. One COD (cash on delivery) order, for example, can be implemented within a day, with the distance between districts of 120 kilometers.

"The delivery service is growing at a dizzy pace," Thai said.

The latest survey by the Vietnam Logistics Association (VLA) found that there are 30,000 logistics firms in Vietnam, including 4,000 international freight & forwarding firms. The industry is witnessing a growth rate of 12-14 percent, while the market is valued at $40-42 billion.

What is noteworthy is the shift from traditional business into e-commerce logistics. 

To develop well, businesses not only need to have good technology, but also large networks which cover all provinces/cities.
However, the business field requires huge initial investment capital. To develop well, businesses not only need to have good technology, but also large networks which cover all provinces/cities.

Therefore, becoming franchisees instead of developing brands of their own is a good idea. The solution brings benefits to both franchisers and franchisees. The former can expand their networks rapidly, while the latter have existing networks and brands, and they don't need to look for customers.

Analysts said the market began to be bustling in 2019, when foreign firms such as ZTO Express and BEST Express entered Vietnam.

After one year of development, BEST Express now has seven operation centers, more than 100 service points and has 3-20 such points in one province. In Hanoi, it has 20 service points and in HCM City 26.

VnExpress quoted a source as reporting that at BEST Express, every franchisee has to invest about VND500 million in facilities, a deposit of VND200 million and franchise fee of VND175 million.

As for ZTO Express, it now has 12 service points. Each franchisee has to pay 50,000 yuan, or VND165 million, in deposit for every service point and 10,000 yuan, or VND33 million, in system maintenance fee. However, each service point can only exploit one district.

Meanwhile, SuperShip, a Vietnamese startup, is offering more reasonable franchise fee than foreign rivals. In order to run a service point in charge of delivery orders within one district, franchisee has to pay VND50 million in fee and deposit for a 3-year contract. They also o have to spend VND50 million on facilities.

According to Le Sy Van, a franchisee in Thanh Hoa province, the explosion of e-commerce has led to the strong development of many business fields, especially e-commerce logistics.
Kim Chi 

The logistics sector is forecast to continue growing strongly this year, with expansion in both retail and e-commerce channels.

Online buyers in Vietnam are increasingly impatient, driving the war on delivery speed.