COVID-19 woes: Footwear exports likely to fall short of target
Footwear exports this year are unlikely to hit the target of US$24 billion because of the fallout of the Covid-19 pandemic.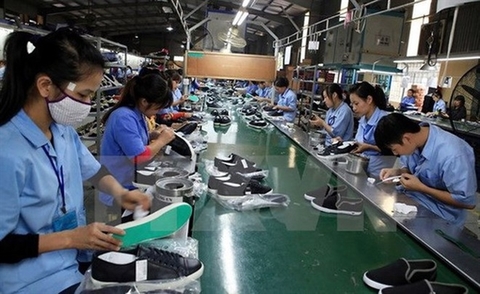 The Viet Nam leather and footwear industry will continue to face difficulties this year because of the COVID-19 pandemic, according to the Ministry of Industry and Trade. 
According to data from the General Department of Customs, exports in the first eight months were worth $10.8 billion, a 9.46 per cent fall year-on-year, as the two largest markets, the US and the EU, cut their orders.
Other top importers such as China and Japan also reduced orders.
The top buyer of Vietnamese footwear, the US bought $3.43 billion worth, or 8.58 per cent less year-on-year, in the first seven months, the latest period for which the customs has figures for individual countries.
The EU's imports were down 32.5 per cent to $2.21 billion as the two biggest individual markets, Belgium and Germany, cut orders by 17.3 per cent and 10.4 per cent.
Imports by China were down more than 19 per cent to $1.14 billion.
Japan's imports decreased by 2.1 per cent to $551.74 million.
Tran Quang Vinh, chairman of the Phuc Yen Shoes Joint Stock Company, said import of feedstock had resumed, but, without buyers, production has dropped by 40-50 per cent.
Most of the production is targeted at export markets, and so it is difficult to sell in the domestic market due to high prices, he said.
Diep Thanh Kiet, deputy chairman of the Viet Nam Leather, Footwear and Handbag Association (Lefaso), said the footwear and handbag industry has the capacity to produce over 1.1 billion pairs of shoes and nearly 400 million backpacks and handbags.
"The domestic market cannot absorb this number."
The ministry forecast that the industry would continue to face difficulties until the end of the year, and relief depends on the US and EU's ability to control the pandemic.
It should improve its supply chain performance to take advantage of the milestone Viet Nam - EU Free Trade Agreement, Kiet said.
The deal took effect on August 1.
The pandemic remains unpredictable, but if enterprises work hard to find partners and improve their competitiveness, they still have excellent prospects, experts said.
Businesses and experts said trade promotion activities and support from authorities should both be enhanced.
Last year exports were worth nearly $19 billion, with sports shoes accounting for a large share. — VNS

Armed with experience from coping with the first wave of the COVID-19 epidemic, many textile and footwear enterprises are quietly confident they can alter their plans as required and find new markets to cope with the second.

After half a year of struggling to survive difficulties caused by Covid-19, Vietnamese enterprises are hoping that more orders will come over the next six months.