COVID-19 outbreak takes a toll on peach blossom sales
As the Tet (Lunar New Year) holiday approaches people in Ha Noi flock to Quang An market in Tay Ho District to buy peach blossom trees.
Prices of peach blossoms in Ha Noi have dropped drastically since the latest COVID-19 outbreak at the end of January.
As the Tet (Lunar New Year) holiday approaches people in the capital city flock to Quang An market in Tay Ho District where a variety of the holiday trees are sold.
Although the market still looks busy, peach sellers said the discovery of new community infections on January 28 and those that followed have taken a toll on sales.
Le Thi Be, 55, who buys peach branches from farmers to sell at the market, said: "Before the COVID-19 outbreak they were selling very fast. But since the outbreak sales have slowed down. Very slow. And the trees became much cheaper too.
"If we buy a tree from the peach gardens for VND1 million (US$43), we can only sell it at about VND500,000 ($22) here. People said they don't have money because of COVID."
Vendors like Be sell all types of peach trees – round, tilted, specially shaped.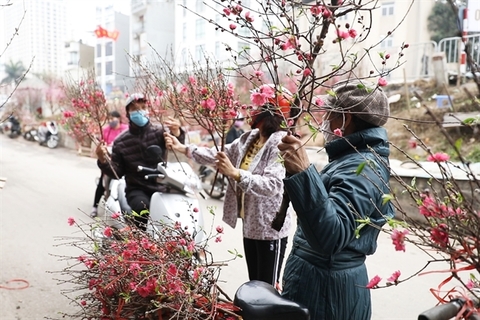 Peach blossom branches of all shapes are sold at Quang An Flower Market in Ha Noi's Tay Ho District. Big branches were sold at VND1-2 million before the outbreak. 
The most expensive ones are around VND2 million, and the least expensive VND200,000, she said.
Nguyen Truong Son, 20, whose family grows and sells the trees, added: "Before the outbreak the prices were very high. Small branches could be sold at VND300,000-400,000, and big ones at VND1-2 million. But since the outbreak and all the isolations were implemented, prices have dropped drastically.
"Normally we can sell 15-20 branches a day, but because of the outbreak, now on a good day we can only sell from eight to 10."
Buyers have also noticed the changes in prices.
Trinh Tuan Anh, an office worker from Bac Ninh Province, said he found the trees about 30 per cent cheaper than last year.
"I do find them cheaper this year. One that would have cost VND1.5 million last year costs only VND1 million this year," he said.
"I guess that's because of the pandemic, which makes it more difficult to travel, and people also don't want to spend a lot of money.
"But for me that's good, because now I can get what I want at a reasonable price."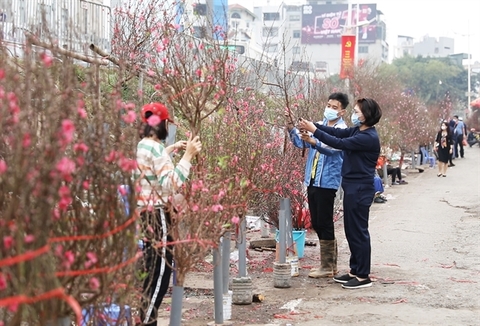 A shopper browses small branches of peach blossoms at Quang An market, which are sold at VND100,000-200,000.
The pandemic is also affecting the traditional holiday and how people prepare for it.
"Because of the pandemic I feel like this market is a little less vibrant than previous years," said Pham Hong Ngoc, an office worker from Ha Noi's outlying district of Ha Dong.
"My husband and I planned to buy a lot of flowers to decorate our house for Tet. But because of the outbreak, we have decided to buy just enough, because people won't be able to visit each other's houses like every year anyway."
Peach blossoms are also being sold in the Old Quarter during the Hang Luoc Tet Flower Market, a traditional event held only once a year a week before the Lunar New Year Eve.
Sellers here are also experiencing a sales drop due to COVID-19.
Pham Van Hanh, 45, from Phu Thuong Ward, Tay Ho District said the prices for flowers and bonsai halved this year compared to last year.
"There are fewer customers so I have to sell at lower prices," he said.
"A small branch of peach blossom which costs VND150,000-200,000 last year is now sold at VND100,000 only. But there are still not many people willing to buy. The pandemic and economic degradation are having a major effect on us."
Truong Mai Phuong, 31, said she is seeing the lowest number of customers this year since she started selling flowers ten years ago.
"I hope the authorities can control the pandemic so that people can enjoy the Lunar New Year," Phuong said.
Viet Nam reported two community infections on January 28 in Hai Duong and Quang Ninh provinces, the first local transmissions for nearly two months.
As of yesterday morning the country's caseload stood at 1,957, with 1,465 having recovered from the disease. — VNS
Hundreds of people in Muong Xen town of the mountainous district of Ky Son in the central province of Nghe An have flocked to the house of a local man to admire a peach tree with the unique position called "Buddha's hand".  
The dishes on Vietnamese people's offering trays for Tet days made of clay have attracted buyers. Many original products have been created to celebrate the nation's traditional Tet.