Country creaking under cold storage supply imbalance
Amid challenging times for exports of Vietnamese produce and an increase in e-commerce, the flaws of the inconsistent cold storage supply become more obvious.
While some large-scale corporations invest in their own storage systems, small- and medium-sized companies are depending on the overcrowded leasing market.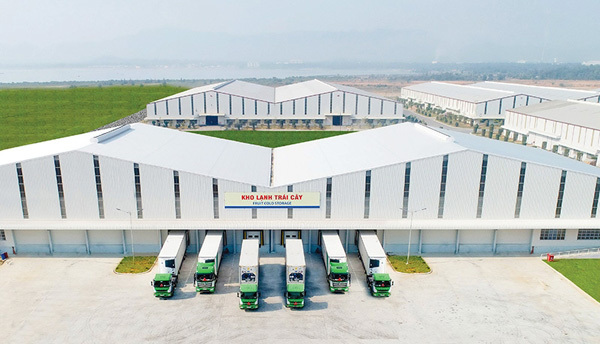 Some companies are upgrading all parts of their business as well as building cold storage facilities for items such as fruits and vegetables. - VIR Photo: Le Toan
As many Vietnamese fruits are entering harvest season, the demand for cold storage systems is rising to a higher level. Nguyen Dinh Tung, general director of Vina T&T Co., Ltd., said that export businesses are in a difficult situation because the cold storage providers in Ho Chi Minh City and neighbouring provinces have run out of space. At the same time, rental prices for cold storage increased dramatically, while goods that could not be exported need even more space.
A survey by JLL Vietnam shows that during the pandemic, up to 50 per cent of seafood export orders have been cancelled and led to escalating inventories, with cold storages operating at maximum capacity.
According to Tung, the cost of renting cold storage has increased rapidly since the beginning of 2020, from VND1.2 million ($52) to VND2 million ($87) per tonne. Some enterprises that purchase agricultural products for export have been forced to stop doing so and refrain from accepting any new orders. Because the establishment of a company's own cold storage would be very costly, businesses mainly rent them and bear the price offered by the lessor.
However, the available cold storage in Vietnam does not meet the demand. Data from the Agency of Foreign Trade under the Ministry of Industry and Trade showed that the whole country had only 48 cold storages with a capacity of 600,000 pallets in late 2019, with about 80 per cent already filled at that time.
The cold storage supply is limited in part because these facilities take longer to build than other types of logistics properties – up to six months for one facility. The construction is also more expensive, sometimes up to two or three times higher than that of a conventional warehouse. Besides that, lease terms usually lasts from 15-20 years, making the already scarce supply even worse.
Tricky management 
Cold storage – as one part of a cold chain – is crucial for easily spoilable goods like produce. For instance, without cold storage the loss of fruits and vegetables can sometimes amount to up to 45 per cent, while up to 30 per cent of seafood spoils before ever reaching a buyer. Thus, some exporters had boldly invested in cold storage systems, but these also come with new challenges.
As soon as the lychee season ended this year, Do Hoang Phuong, director of Global Import-Export Food JSC, began to find new customers to lease his company's 800-tonne cold storage in the northern province of Bac Giang.
Since Phuong's company owns cold storage, it can generally be more proactive in exporting, but during the off-season, financing becomes another issue. "I'm sure that investing in cold storage won't be very effective if we only focus on lychees," said Phuong.
Vietnam's cold storage development happened asynchronous to the growth of agricultural exports, which increase year by year. Despite the pandemic, the country's export turnover of agricultural products in 2020 reached about $41.2 billion, but most items were raw and fresh.
Meanwhile, cold preservation systems are mainly applied for seafood, while other agricultural products only see a very low application level of these systems. According to a survey by CEL Consulting, in 2020, only 8.2 per cent of producers for the domestic market worked with proper cold chains, much lower than the two-thirds of exporters.
The impact of the pandemic has changed the operation of global cold chains. Many countries opened more facilities and put more emphasis on safety and adaptability to new circumstances, leading to a construction boom.
According to consulting firm Emergen, the construction volume of cold storage is predicted to reach a value of $18.6 billion by 2027, an increase of 13.8 per cent per year. But even at this rate of construction, cold storage shortages are likely to continue due to a huge demand for agricultural products.
In Vietnam, the demand continues to increase, proportional to the export turnover of more than $40 billion in recent years. In addition to the existing cold storage facilities, in 2020, a number of new storages were built, albeit not put into operation yet. Among these are Truong Hai Auto Corporation's (THACO) Hung Vuong warehouse for about 60,000 pallets, the AJ Total Long Hau warehouse for 32,000 pallets, and the AJ Total Hung Yen warehouse for 25,000 pallets.
However, with cold supply chains decentralised and mostly run by small- and medium-sized suppliers, cold storage centres represent a great investment opportunity for operators. THACO – a multi-industry corporation in Vietnam – is also implementing its ambitious plan to turn its Chu Lai Agro-Forestry Industrial Park into an export centre for fresh and post-processed fruits for international and domestic consumption.
As part of this endeavour, its subsidiary Chu Lai Logistics built cold storage for fruit on an area of about 15,000 square metres, as well as upgraded specialised equipment, and is now to open more international shipping routes with a planned frequency of at least five trips to China per month.
THACO also plans to upgrade its infrastructure, vehicles, and equipment to increase transportation output from and to southern Laos, northern Cambodia, and the Central Highlands region. By doing so, it aims to turn its ports into centres for forwarding, shipping, and exporting fruits of Vietnam.
Market gaps 
While THACO is a positive example, most of Vietnam currently lacks sufficient cold storage, which could lead to shortages and imbalances in supply. Currently, most cold chain service providers are concentrated in the south – an area with high demand. Nearly half these are owned by domestic companies, another quarter by foreign businesses, 14 per cent by logistics companies, and the remainder by some members of the Vietnam Logistics Business Association like Transimex, Gemadept, and Saigon Newport.
International investors also recognise the opportunity for cold storages in Vietnam. Emergent Cold Vietnam Co., Ltd. and Preferred Freezer Ltd. both decided to merge with Lineage Logistics Ltd. – the world's largest cold chain corporation. In Vietnam, Lineage has three warehouses in Song Than 1 Industrial Park in Ho Chi Minh City's District 7, and in VSIP Bac Ninh in the northern province of Bac Ninh.
Dao The Anh, deputy director of the Vietnam Academy of Agricultural Sciences, found that the cold storage system should be suitable for each production area, with small-scale cold storage for cooperatives, medium-sized solutions for enterprises, and large-scale complexes for specialised farming areas.
According to Anh, Vietnamese agriculture not only needs cold storage to preserve products after harvest but also for processing and consumption. "Cold chain investment involves large capital, technology, and operational costs. Thus, if the state supports investing enterprises, such projects could be implemented in the form of public-private partnerships," Anh explained.
According to Vanessa Chang, department director at the Taiwan External Trade Development Council, Taiwanese companies active in Vietnam have been planning to provide support to the local cold chain industry. "Taiwan's companies have the technology and flexible design for cold chain systems, and it is easy for these companies to integrate all necessary resources. However, we still have to obey the local regulations and laws. If the government supports us, we will do it faster and better," Chang said.
Source: VIR

The growing tendency of consumers shopping online globally has led to a sharp demand for cold storage warehouses, but investment in cold storage facilities remains modest.

While many industries are suffering during the Covid-19 pandemic, cold storage supply chains are heating up the logistics industry.