Continuing to provide advantages for US investors
As the United States and Vietnam celebrate 25 years of diplomatic relations, the partnership between the two is arguably at its strongest level, with growing trade and investment ties.
Mary Tarnowka, executive director of the American Chamber of Commerce in Ho Chi Minh City and Danang, shared with VIR's Thanh Van her insight about US investment into Vietnam, especially in the context of a new administration being set to enter the White House.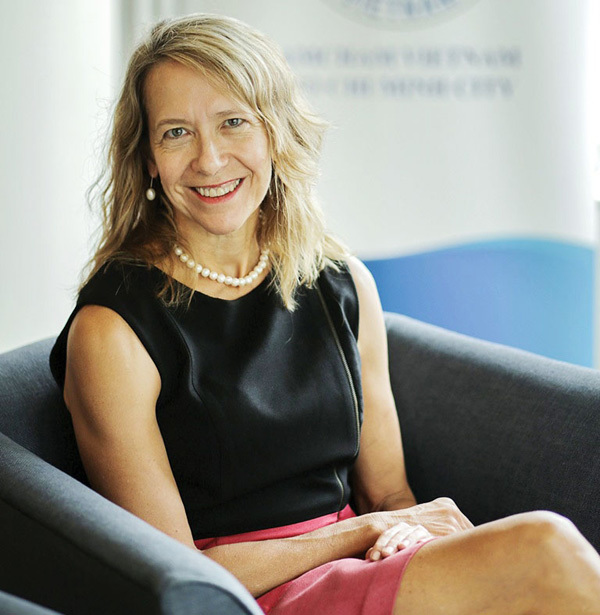 Mary Tarnowka, executive director of the American Chamber of Commerce in Ho Chi Minh City and Danang.
What are the prospects of investment from the United States into Vietnam under the next administration?
Vietnam continues to be a very attractive destination for US investment for a number of reasons. It is a bit early to say what specific policies the new administration would undertake and how it would affect trade policy in Asia and the Indo-Pacific region, specifically with Vietnam. There will be a continuing interest in free and fair trade focusing on removing barriers to trade and investment.
We don't expect there will be such a single focus on the bilateral merchandise trade balance with countries as has been the case under the Trump administration. There will be a continued effort to ensure that US companies encounter a free, fair, and predictable regulatory environment when they invest overseas, and that there is a level playing field.
We also expect that the Biden administration will continue to place a very high priority on the Asia-Pacific and Indo-Pacific regions. Under the Trump administration's Indo-Pacific strategy, Vietnam is a key part of that focus. We expect that the Biden administration will seek to strengthen ties with allies, partners, and friends in the region. 
How do you evaluate any upcoming trend of American firms relocating from China to Vietnam?
The trend of US companies relocating from China to Vietnam is taking place for a number of reasons. The trend started several years ago as labour costs increased in China. Vietnam and other Southeast Asian countries have become more attractive. The trend is rising due to tariff tensions during the trade war between the US and China.
Now, the COVID-19 pandemic has been a wake-up call to many companies about their excessive reliance on China in their supply chain. I think companies will continue to diversify their supply chains to ensure resilience and connectivity. Vietnam will be very attractive for US companies seeking to diversify their operations. 
What are the advantages and disadvantages of Vietnam in comparison with the other countries in Southeast Asia in terms of attracting US investment?
One of the key advantages of Vietnam is its location with close proximity to key markets, production hubs, and destination countries. Vietnam is also very integrated with the world through a network of free trade agreements including the EU-Vietnam Free Trade Agreement, the Comprehensive and Progressive Agreement for Trans-Pacific Partnership, and now the Regional Comprehensive Economic Partnership.
The country is one of the fastest growing economies in the world and among the very few economies continuing to grow this year. Vietnam also has a stable government system and boasts a young, tech-savvy, and affordable workforce. Successful pandemic management gives the nation yet another advantage and is contributing to economic growth as well.
One of the principal challenges to US investment into Vietnam is infrastructure, such as highways, ports, and railway systems. The country should not only build modern highways around Hanoi, but also develop transport systems that integrate with the entire country. Ports, airports, and logistics centres also need to continue to grow.
Some companies want to carry out more production in Vietnam but they can't get goods out to the ports. It doesn't make sense to increase production. The Vietnamese government should continue to invest in physical infrastructure to support growing investment. It should be carried out around the country by attracting investment into the central region and the Mekong Delta region, improving connectivity.
In addition to the physical infrastructure, social infrastructure and education should also receive more attention. Efforts are underway on education reforms to ensure that graduates from universities really develop critical thinking, soft skills, communication, English proficiency, and team-working skills.
Another crucial aspect is the digital infrastructure. Vietnam has an advantage compared with some other countries in the region as it has a relatively open digital environment. There are many Vietnamese people active on social media channels like Facebook and LinkedIn and this contributes to innovation and entrepreneurship here.
It is important for Vietnam to continue to ensure the right regulatory environment in order to develop its digital economy.  VIR
Thanh Van

Vietnam has set to be a bright alternative in Asia for US businesses amid the unprecedented challenges.

Solar power capacity is increasing thanks to significant changes in feed-in-tariff.