Construction firms urged to apply technology to improve efficiency
The impacts of the COVID-19 pandemic and Industry 4.0 required construction firms to invest in technology to improve efficiency.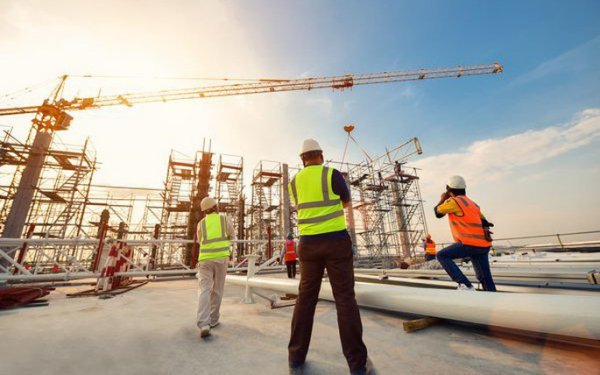 According to the Ministry of Construction, more than 1,500 enterprises operating in the construction industry completed dissolution procedures in 2020, demonstrating that the COVID-19 pandemic had negative impacts on the operation of these companies, although the Government lowered banking interest rates last year to aid enterprises.
Another problem was that input costs increased significantly while real estate prices did not see a corresponding increase, which also affected operation efficiency.
The ministry said that the real estate market was showing signs of recovery but the recovery was not taking place as rapidly as expected. In addition, legal problems at a series of property projects were causing stagnation in construction.
Large firms also encountered difficulties.
Nguyrn Xuan Dong, general director of Vinaconex Corporation, said that the company's revenue in 2020 fell by 42 per cent against the previous year, in which construction revenue dropped by 45 per cent and real estate business by 86 per cent.
Economic expert Can Van Luc said that the Vietnamese economy expanded at three per cent in 2020 despite the impacts of the COVID-19 pandemic, higher than the world's average.
The gross domestic product (GDP) growth rate in the 2018-19 period averaged around 6.8 per cent, forecast at 6.5-7 per cent in 2021 and seven per cent on average in the next 10 years. The positive economic prospects would fuel the development of the real estate market and provide opportunities for construction enterprises to expand operation and enhance efficiency in the future, Luc said.
According to Cao Van Ban from the Vietnam Association of Construction Economy, the macroeconomic situation and the positive prospects for real estate market recovery were opening new opportunities for construction companies to develop but also bringing challenges and new requirements.
Bản said that constrution firms must raise solutions to speed up construction progress, lower costs and improve quality.
"The most important thing to construction companies at the moment is to take advantage of science and Industry 4.0 to create breakthroughs," Ban stressed.
For State-owned construction enterprises, it was necessary to strengthen restructuring and renovation through privatisation to improve efficiency, he said.
Renovating technology is an unavoidable trend, not only for construction enterprises.
The Prime Minister in late January issued a national technology renovation programme to 2030 which set the target that the number of enterprises renovating technology increases by 20 per cent per year on average.
VNS

The Ministry of Construction (MOC) has joined forces with a number of ministries and branches to draft a government resolution on solutions to encourage the development of low-cost commercial housing projects.