China's low demand causes rice price to fall to 12-year low

The Ministry of Agriculture and Rural Development has attributed the lowest rice price in 12 years to low demand from China, as many Vietnamese exporters continue to fail to meet this market's requirements.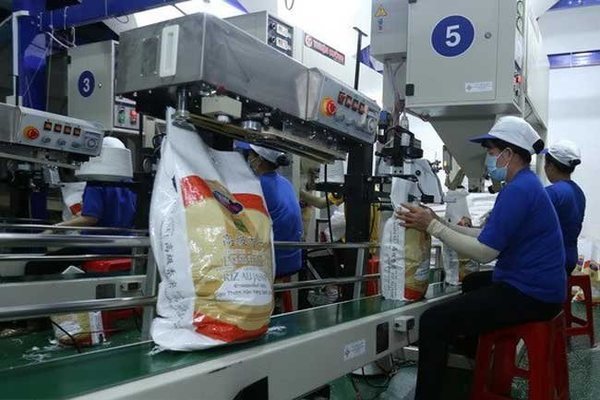 Rice is packaged for export at a plant owned by Trung An Hi-Tech Farming JSC in Can Tho City - PHOTO: VNA

At a press briefing of the Ministry of Agriculture and Rural Development on October 14, Nguyen Quoc Toan, head of the Farm Produce Processing and Market Development Department, under the ministry, noted that the ministry had predicted that the country would face difficulties in exporting rice this year, news site Vietnamplus reported.
Specifically, Vietnam's major importers, such as China, Indonesia and Bangladesh, have reduced their rice imports.
As for China, Vietnamese rice exporters are facing increased competition as China has welcomed other countries, such as Myanmar and Cambodia, to supply rice to its market.
Tran Cong Thang, deputy head of the Institute for Policy and Strategy for Agriculture and Rural Development, pointed out that in the past two months, Vietnam's 5% broken rice prices have fallen to US$325 per ton, the lowest level since November 2007.
The main reason is that China has tightened control over the quality of rice imports and diversified its rice suppliers.
According to Deputy Minister of Agriculture and Rural Development Phung Duc Tien, the slower global growth has also affected Vietnam's rice export volume. Further, technical barriers on food safety and origin traceability have hindered the export of local farm produce, including rice.
Toan from the Farm Produce Processing and Market Development Department proposed removing obstacles to the export of rice to China and boosting rice shipments to the Philippines and Africa.
According to the department, Vietnam exported 5.2 million tons of rice worth US$2.24 billion in the January-September period this year, up 5.9% in volume but down 9.8% in value over the same period last year. The Philippines was Vietnam's largest rice buyer in the period, accounting for over 36% of the country's total rice export volume. SGT
 

Vietnam's trade deficit with China has been increasingly widening, exceeding US$27 billion during the first nine months of the year, according to statistics released by the Ministry of Industry and Trade.  

The US-China trade war is giving opportunities to Vietnam to diversify material supply sources, increase imports from the US to reduce the trade surplus with the country, and reduce the trade deficit with China.