Chairman of Nam A Bank to relinquish post over family disputes

Nguyen Quoc Toan, chairman of Nam A Commercial Joint Stock Bank and son of the bank's late, female founder Tran Thi Huong alias Tu Huong, plans to relinquish his post to help solve his family's asset disputes.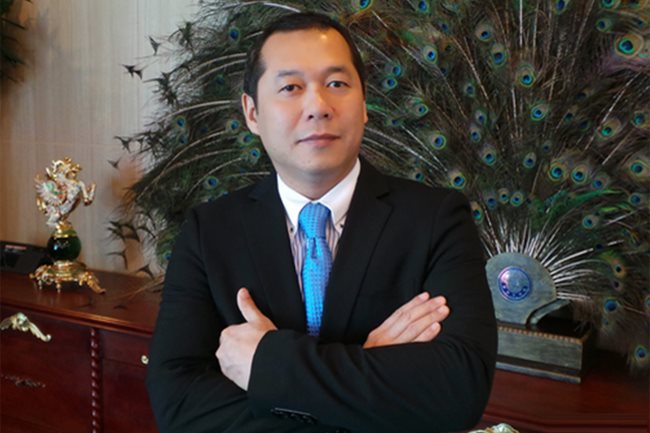 Businessman Nguyen Quoc Toan, son of Tu Huong and Nguyen Chan – the founders of Nam A Bank and Hoan Cau Group – PHOTO: LDO
Nam A Bank said in a statement on June 22 that the 49-year-old Toan will authorize the first vice chairman to take charge of the bank's operations. His resignation is also meant to minimize any impact on the bank's activities and to safeguard the legitimate rights and interests of its clients.
The bank expected the family disputes to be resolved fully. According to the bank, these disputes between Toan and his 96-year-old father, Nguyen Chan, have been ongoing for years.
The bank said that the disputes are purely a civil relations issue between shareholders and are not related to the business activities of Nam A Bank, a public company operating in a public, transparent manner in compliance with prevailing regulations.
The Investigative Police Agency, under the Ministry of Public Security, on June 20 decided to launch a probe into accusations of trust abuse and misappropriation of assets. The move followed a complaint by Nguyen Chan against his own son Nguyen Quoc Toan.
Chan said at a press briefing in HCMC on March 15 that in mid-2016, his wife Huong, while being ill, asked one of her sons, Toan, to take the helm of Nam A Bank, Hoan Cau Group and some investments. However, the couple still retained ownership of their shares.
Chan said that he had asked Toan to temporarily keep the key to the family safe at his apartment in District 3, HCMC. The safe contained all the legal files of their companies and bank shares as well as other valuable assets and papers belonging to their children and grandchildren.
The father told the local media that Toan was only allowed to open the safe with his prior permission. However, Toan and some other individuals allegedly stormed the apartment on May 2018 and seized all the files, shares and authorization documents.
These individuals were later accused of changing the names of members who made capital contributions and share purchases and who were the legal representatives of the concerned companies, among other things.
Chan claimed that his son had colluded with other individuals to misappropriate all the shares and assets, worth an estimated VND30 trillion (US$1.2 billion), belonging to himself and his deceased wife. These include shares in Nam A Bank, the subsidiaries of Hoan Cau Group and other companies in the form of capital contributions and share purchases.
Apart from real estate, Hoan Cau Group and Nam A Bank also own shares in corporations and in Vietnam Export Import Bank (Eximbank), a HCMC-based joint stock bank that is struggling due to massive conflicts among its shareholders.
Three daughters oppose their father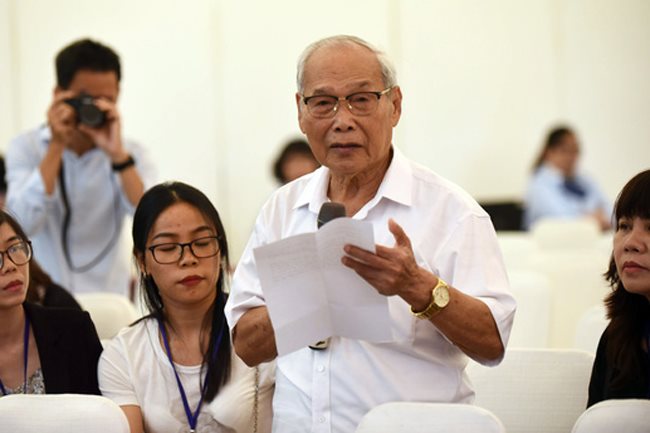 Nguyen Chan, one of the founders of Nam A Bank and Hoan Cau Group, has accused his sonNguyen Quoc Toan of misappropriating all the shares and assets of the family – PHOTO: TTO
Meanwhile, three daughters of Chan and his wife -- Nguyen Thi Xuan Huong, Nguyen Thi Xuan Nu and Nguyen Thi Thanh Xuan -- lodged a complaint with the Ministry of Public Security and the Supreme People's Procuracy late last month, contradicting the claims.
They accused their father and seven other brothers and sisters of having made false statements about Toan.
Their letter said that after the death of their mother in 2017, the seven brothers and sisters deliberately caused problems in the family's business activities and colluded with outsiders to usurp the deceased's properties, which were intended for her children and grandchildren.
The brothers and sisters made use of the elderly Chan to ask him to file a complaint against their brother, Toan, according to the trio.
They claimed that Chan had not engaged in the management and operations of Hoan Cau Group for the past 30 years. Some other children were given the opportunity by their mother but could not perform their duties. As a result, during the last days of her life, Huong wanted to delegate all rights to asset management and business operations to Toan.
The women added that the division of properties among Huong's children was conducted openly by their mother, so Toan had the full rights to buy, sell and transfer his assets.
Nam A Bank and the companies under Hoan Cau Group operate in line with the law, so their purchases and transfers of shares are executed lawfully and strictly overseen by State agencies, according to the trio.
According to the 2012 annual report, Huong's ownership ratio dropped from 13.09% in 2007 to 4.96% in 2012, due to the transfer of shares to her children.
Between 2004 and 2011, Nguyen Quoc My, another son of Chan and Huong, was picked as chairman of Nam A Bank. Later, one of their daughters, Nguyen Thi Xuan Loan, took the hot seat.
In 2014, Loan resigned from the post, and her brother, Nguyen Quoc Toan, was nominated as the bank's board member and then appointed to the chairman position.
In 2015, Toan left his chairmanship for personal reasons, and as a result, the bank's vice chairman took the seat. However, nine months after resigning, Toan was restored to the position on April 2016.
Nam A Bank was officially put into operation on October 1992 and was one of the first commercial banks to be established after the Banking Ordinance was issued in 1990 in the context of economic reforms in Vietnam.
As of late 2018, the total assets of the bank had reached more than VND75 trillion, a 40% rise against 2017, while its profits doubled year-on-year to nearly VND750 billion. SGT

If the four state invested banks cannot raise their charter capital, the safety of their operations will be affected, according to the Vietnam Banking Association (VNBA).

If Ocean Bank is sold to foreign investors, this will mark a new milestone in the restructuring process and pave the way for more foreign investors to come to Vietnam.

A plan to allow large Vietnamese State-owned commercial banks to pay dividends in shares or retain dividends would help them accumulate capital and meet regulatory minimum capital thresholds, Fitch Ratings said.