Car sales in Vietnam plunge 8% in 2020
Car sales in Vietnam in 2020 dropped 8% year-on-year to 283,983 units across all segments despite a strong increase seen in the fourth quarter, the latest data released by the Vietnam Automobile Manufacturers Association (VAMA) showed.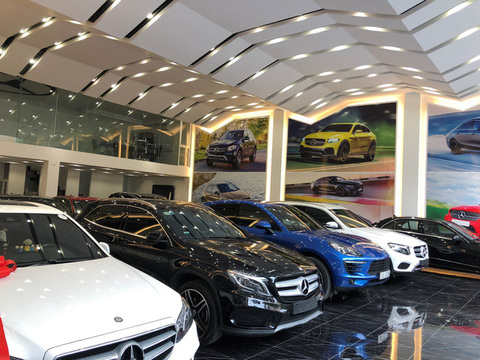 A car showroom in Long Bien District, Ha Noi. — Photo cafebiz.vn
Of the total, sales of passenger cars recorded a yearly decline of 7 per cent while that of commercial vehicles and special-purpose vehicles dropped 10 per cent and 26 per cent year-on-year, respectively.
As per the data, sales of domestically assembled cars in 2020 experienced a slight decrease of 1 per cent compared to the previous year, while sales of imported cars plunged 17 per cent on year.
According to VAMA, the domestic automobile market experienced impressive performance in December with the number of cars sold surging by 32 per cent month-on-month and 45 per cent year-on-year to 47,865 units as customers rushed to buy cars before the end of 2020 to enjoy the 50 per cent reduction in registration fees.
The volume included 36,856 passenger cars, up 28 per cent month-on-month; 10,673 commercial cars, up 50 per cent and 336 special-purpose vehicles, down 30 per cent.
As many as 29,382 locally assembled cars were sold in December, up 25 per cent against the previous month, and 18,483 imported cars were sold, up 44 per cent.
Uncertainties would likely cast a shadow on the local car market in 2021, especially when the COVID-19 pandemic continued and customers curb their spending, according to Nguyen Trung Hieu from VAMA.
Sharing Hieu's view, director of auto dealership Thien Phuc An Co Nguyen Tuan said if the market continued to stay quiet, car dealers might provide their own sales promotion programmes for customers to keep up revenue. — VNS

The year 2020 witnessed many ups and downs of the car market. In H1, demand dropped dramatically because of Covid-19, but in H2, cars sold well thanks to the preferential vehicle registration tax.