Businesses reopen in HCM City, but challenges remain
After months of social distancing the reopening of the HCM City economy on October 1 has brought cheer to both businesses and the public.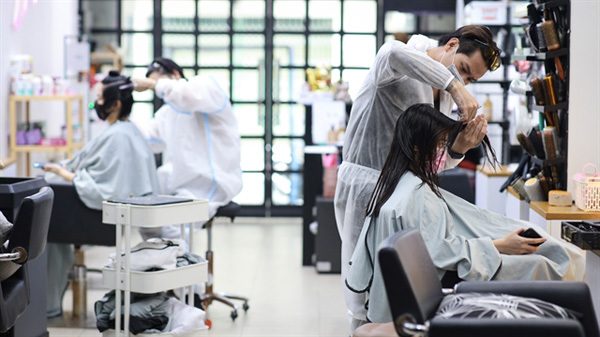 Chi Tam Hair Salon in HCM City's District 1. Many businesses in the city are evidently keen to reopen after authorities began to ease COVID restrictions on October 1, but they face many challenges like lack of staff. — Photo Courtesy of Chi Tam hair salon
People are again happy to enjoy simple pleasures like going to get a haircut, visit the gym or merely have a cup of bubble tea, things that were off-limits for nearly three months.
Huynh Chi Tam, owner of Chi Tam Hair Salon in District 1, told Việt Nam News that the last day of September was exciting since in his 16 years as a hair dresser he has never had to stop working for so long. He had been closed for four months.
"That night I could not sleep. I could not wait to reopen my shop. I really wanted to meet my customers again."
He joked that he was worried his customers might have forgotten him.
He has a salon each in districts 1 and 7, and has opened only the former.
On the first day he got 20-25 customers who had made appointments. 
During normal times his shop would get 100 customers.
All of his staff have gotten two shots of vaccines and are equipped with safety tools, he added.
Another business that many people were eagerly expecting would open was fitness.
Vietnam's largest fitness and wellness group, FLG Vietnam, said last week that all its California Fitness & Yoga centres in HCM City opened at 6am on Monday. 
They are fully compliant with the Government's safety conditions.
They include a maximum number of customers at any given time guideline, and for this FLG has added a new function to its LivWell app and instructed members to reserve their preferred workout slot. In addition, the class time will be cut down to 45 minutes and each of member will have a 90 minute workout slot. All workout sessions are required to be booked in advance.
"The reopening of the fitness industry is extremely exciting news for the entire city," Dane Fort, FLG CEO, said.  
"After so long at home, we know that our members are looking for … ways to make sure their immune system is strong enough to fight COVID … and a change in their daily patterns after so long at home."
Anh, a street vendor selling cơm tám (broken rice) in District 7, shared her happiness at the reopening with Việt Nam News, saying closing for months had made it a hard time for her.
She said she and her employees have been vaccinated.
"On the first day I sold out at noon. I was so surprised that many people missed my shop and came back." 
Difficulties ahead
Though very happy to be back, many businesses, especially micro and small-sized ones realise that many problems remain: like human resource shortages, customers' wariness of spending and the fact many people are not fully vaccinated and could possibly spread COVID.
Tam said he is really worried since he only has 10 employees, just a quarter of the number before the pandemic.
Fearing they will be tired and cannot deliver the best quality, he closes down two hours earlier than normal.
Dylan Hoang Nguyen, owner of Look Good Naked Fitness Studio feared when reopening that customers would tighten their purse strings, and is considering how to reduce the subscription, and many would have set up facilities to exercise at home and would no longer sign up.
Thao Nguyen, owner of Helen's Nail Bar and Eyelashes, said she is very happy to open again, but is worried many customers would cut back on spending and so plans to design new packages.
Pet Mart, a chain with 12 shops offering services of taking care pet in the city, is worried about the lack of staff.
Its owner, said only 30 per cent are likely to return to work, and it could take three months to return to full normalcy. So some stores might have to remain closed, she added.
Another business owner said it is difficult for her to ensure all her employees got two doses of a vaccine at least two weeks before opening, and is considering the reopening date.
The owner of May Trang Laundry Shop in District 1 told Việt Nam News she is very sad that she cannot open since "All my staff live in red zones. They cannot go to work. Furthermore, they are not fully vaccinated, and so that I cannot reopen."
Besides, her business faces major financial challenges since the landlord refused to reduce the rent though she was closed for months.
In order to smoothly and safely resume, businesses said they expect comprehensive and clear information from the Government to avoid a situation where each district, ward and locality interprets it differently and has its own regulations. 
Source: Vietnam News 

HCM City has licenced a number of production facilities, enterprises and services to resume normal operations starting on Friday after a months-long shutdown of tough COVID-19 preventive measures.  

With specific conditions, Ho Chi Minh City has asked for the Prime Minister's permission to apply special regulations to reopen the economy.