Businesses need more effective support amid COVID-19
Like many countries, Vietnam may have to depend on vaccines to achieve herd immunity and be virus-free, but enterprises may not be able to wait. They are in dire need of help and are craving new momentum to return to a "real normal" situation.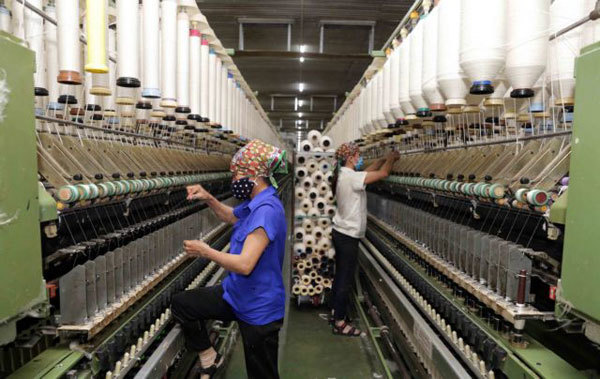 Fibre manufacturing at Ha Nam Textile Company. Most businesses have not recovered from the previous waves of infections and the most recent wave has hit them harder and caused greater destruction. 
"Business owners are suffering very hard. Many don't know what to do and where to go to get support," Ho Thi Hai Ngan, CEO of ADP Investment Consultants Co. Ltd., told Việt Nam News.
Ngan's company is helping many businesses in southern provinces prepare to apply for preferential loans which support COVID-19-affected businesses to sustain production and avoid bankruptcy.
"We've presented documents to many banks but could not get a loan. They all said these companies are not qualified for the programme," Ngan said, adding that the banks gave her a long list of criteria to get the loans.
Since the first outbreak of COVID-19 in January last year, the Government quickly introduced many policies to help labourers and enterprises survive. Three main packages included a VND16 trillion (US$690 million) fund to support businesses to pay salaries to employees, a social security package worth up to VND62 trillion and a fiscal package that extends and defers taxes and land rent with a total value of VND180 trillion.
However, the enforcement has not been done appropriately, decreasing effectiveness. Many enterprises could not access the support package due to rigid and stringent requirements which are not suited to small and medium enterprises.
According to business owners and experts, criteria such as 50 per cent reduction in workforce and 30 per cent drop in revenues meant businesses must be closed or nearly bankrupt to be able to get the support. This is not consistent with enterprises' efforts to find ways to survive and sustain production.
According to the State Bank, after a year of implementing the VND16 trillion loan package at zero per cent to help businesses pay salaries for their employees since May last year, only VND43 billion has been disbursed, equivalent to just 0.27 per cent of the package value. 
What do businesses need?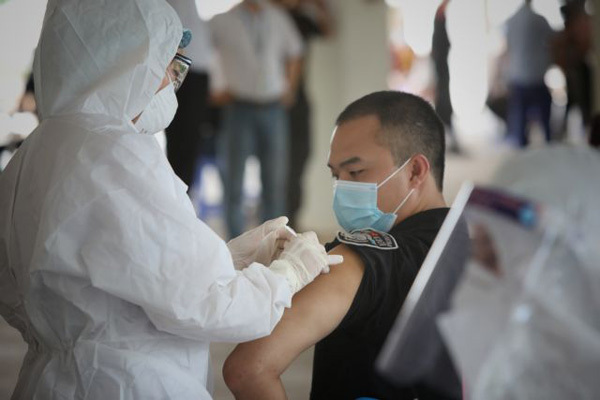 A healthcare worker vaccinates a man working in Dinh Tram industrial park in Bac Giang Province. Vietnam is hoping its vaccination programme can keep people free from virus and bring businesses back to normal. VNA/VNS Photo Danh Lam
Ngan said the biggest challenge of businesses is the lack of capital. Without collateral assets and proof of revenue sources, they could not get a loan.
"Some enterprises suffered a nightmare, seeing revenues plummeting from hundreds of billions of dong to no revenue."
She said business owners hope they can access loans based on their future revenue sources, not the past numbers, and their ability to recover and contribute to economic growth.
"The lending criteria need to be more practical," Ngan said.
In addition, Ngan said the provincial authorities should establish a playing field to connect enterprises, building trust among each other to help them share resources including capital, labour and goods.
"Enterprises that have capital can lend to others who are in need. Car drivers can be lent to other firms to transport goods or enterprises can even exchange goods," Ngan said, adding this way would help utilise resources of each other more efficiently. 
Need new momentum
While most businesses have not recovered from the previous virus waves, the new one hit them harder and has caused greater destruction.
The newest outbreak, which started on April 27, is considered faster and more dangerous than previous ones. Infection have appeared in 39 provinces and cities across the country, of which Bac Giang and Bac Ninh are the two localities with the highest number of infected people, concentrated in industrial zones.
Worryingly, most industrial parks in these two provinces are production facilities in the supply chains of large corporations such as Samsung, Intel and Apple. Besides, the pandemic took place at a time when some northern provinces are in the harvest season of lychee – an agricultural product with high export value and have newly accessed some high-standard markets such as Japan and Singapore.
The latest data of the General Statistics Office showed nearly 60,000 enterprises suspended business or filed for bankruptcy in the first five months, rising 23 per cent over the same period in 2020. The figure in May alone was more than 5,500 enterprises, up 36.3 per cent year-on-year.
According to Dr. Tran Thi Hong Minh, director of the Central Institute for Economic Management (CIEM), the Government needs to provide more support for enterprises, especially when the fourth wave of the virus has lasted for more than one month, affecting many labour-intensive enterprises in industrial parks.
"In addition, some countries in the region have improved in tackling the virus crisis, thereby recovering earlier. Vietnamese enterprises may face greater competition pressure in some export markets," Minh said.
However, she suggested the scale of support needs to be carefully considered because limited State budget resources must also be used to deal with pandemic control.
In early May, Deputy Minister of Planning and Investment Tran Quoc Phuong said the ministry is studying new support policies for enterprises which include a collection of solutions, targeting different industries.
Many experts hope from experiences in implementing the support measures in 2020, the new economic support will offer easier-access criteria for beneficiaries and be extended at least until the end of 2021.
"I hope the Government and ministries will continue reviewing and adjusting the conditions, procedures and processes for businesses to access the support package, cutting unnecessary documents," Minh said.  
VNS

Continuing his talk with VietNamNet, Dr. Nguyen Duc Kien, Head of Economic Advisory Group to the Prime Minister, said that the "new normal" is to open for businesses and workforce as the people have been in harsh conditions.

It has been a tough year for the global economy. Thanks to the all-out efforts made by its Government, Vietnam is one of the few countries in the world whose GDP grew in 2020.