BUSINESS NEWS 29/4
Vietnam faces challenges in curbing inflation
Vietnam's economy had a successful 2018 but growth may slow this year as the country tries to curb inflation.
Speaking at a meeting held by the National Assembly's Economics Committee in Nha Trang City on April 25, Deputy Minister of Planning and Investment, Le Quang Manh said that the country had a successful year in 2018 in terms of economic development with all 12 targets reached.
"Of the 12 targets set by the National Assembly for 2018, GDP was higher than expected," Manh said. "Trade turnover reached over USD 480 billion which was USD 52 billion or 12.2% higher than that of 2017. The trade surplus was a record USD 6.8 billion."
The official also added that GDP growth was seen at 7.08%, higher than the target of between 6.5-6.7% set by the NA.
"GDP per capital reached USD2,590 in 2018 which was USD 201.6 higher than that of 2017," he said.
According to Manh, the socio-economic situation saw positive progress in the first quarter of 2019 but would tend to slow in the months to come.
Addressing the meeting, chairman of the National Assembly's Economics Committee, Vu Hong Thanh, said that besides achievements, there were still some problems.
"One problem is the increasing prices of essential goods following the recent petrol and power prices hike," Thanh stressed. "Real estate bubbles are increasingly common in several areas. There are also challenges and risks from the world's economy which may badly affect local economy including Brexit and Sino-US trade problems."
Thanh added that although economic experts are positive that the country could control inflation below 4% this year, there are many challenges ahead as the petrol and power prices hike are pushing up prices of other goods. The country would have to adjust monetary and fiscal policies to curb inflation. This would affect economic growth of the coming period.
'Check in Vietnam - Proud of Vietnam' program launched
A program called "Check in Vietnam - Proud of Vietnam" from the Communications Center at the Ministry of Natural Resources and Environment has been jointly launched by the Center and the Vietnam National Administration of Tourism (VNAT) at the Ministry of Culture, Sports and Tourism.
The program aims to raise awareness in the community, especially among young people, about preserving and promoting Vietnam's culture and heritages as well as environmental protection through journeys to heritage destinations and historical sites.
It also expects to promote famous landscapes, historical relics, and traditional customs and cultures in all localities around the country to tourists, especially foreigners.
A series of events promoting heritages and involving celebrity volunteers will be organized from May to December.
There will be a launch and promotion ceremony on culture and heritage discovery in May at the Vietnam National Village for Ethnic Culture and Tourism in Son Tay town in Hanoi, and a series of events with the theme "Check in Vietnam - Journeys to Heritage Sites" featuring trips to well-known destinations with heritages in combination with environmental protection and charity campaigns with the participation of celebrities.
Another highlight of the program is the introduction and construction of the social app "Check in Vietnam" (App CIVIE), which is expected to become an e-encyclopedia and contribute to making Vietnam a smart tourism country with Industry 4.0 technology. Vietnamese and foreigners, both individual and groups, can post pictures, texts, and videos sharing their trips in the country.
There will also be a competition on "Check in Vietnam - Proud of Vietnam" from May 1 to November 30. Vietnamese and foreigners living in or travelling to Vietnam can send articles, pictures, and videos of places they visited to the App CIVIE or the Facebook fanpages #Checkinvietnamtuhaovietnam2019 and #phongtraocheckinvietnam2019.
A total of 36 works will be selected and posted on the fanpages for the final round, for people to vote on the winner in each category. There will be prizes every week and every month in each category. Prizes total over VND2 billion ($86,000) including cash and gifts from sponsors.
Vietnam welcomed a record 15.4 million foreign visitors last year, a 20 per cent increase against 2017. The number of international tourist arrivals has surged three-fold from 5 million in 2010. It also catered to 80 million domestic travelers last year, generating VND620 trillion ($26.66 billion) in revenue.
It was ranked the world's fourth fastest-growing travel destination in a 2018 UN World Tourism Organization report for its impressive growth in international arrivals over recent years.
Vietnam plans to welcome up to 20 million foreign visitors by 2020, earning $35 billion in tourism revenue and contributing 10 per cent to the country's GDP.
Quang Ngai province has first solar power plant
The first solar power plant in the central province of Quang Ngai was inaugurated on April 26 in Duc Minh commune, Mo Duc district.
Built by the Thien Tan investment construction JSC with an investment of nearly 900 billion VND (38.66 million USD), the Mo Duc solar power plant has a capacity of 19.2 MW. It uses the advanced FTC Solar technology of the US.
Vice Chairman of Quang Ngai province's People's Committee Nguyen Tang Binh said the plant will supply clean power for the national power grid, helping ease the pressure of rising power demand.
He instructed the province's departments and agencies to implement policies and legal documents on developing the abundant solar power source, contributing to local socio-economic development.
Nghe An holds conference to promote partnership with Japanese investors
The central province of Nghe An on April 26 held a conference to seek closer cooperation between the locality and Japanese investors.
At the meeting, themed "Nghe An-Japan Meeting: Cooperation and Development", Chairman of the provincial People's Committee Thai Thanh Quy reported that total Japanese-funded programmes and projects in the province has reached 44 with a combined investment of nearly 5.1 trillion VND (219.3 million USD).
Currently, the province is hosting seven Japanese FDI projects with a total capital of 72.19 million USD, mostly in limestone mining, food processing, and garment and textile, he said.
The provincial leader called on Japanese businesses to strengthen investment in tourism, industry, agriculture, trade, services, education and training, and health care.
Japanese Ambassador to Vietnam Umeda Kunio said that in the future, Japan will support and invest in Nghe An in tourism and education-training. He expressed his hope that Nghe An will create optimal conditions for partnership between the two sides.
Addressing the event, Deputy Prime Minister Vuong Dinh Hue said that the conference is a chance for the two sides to seek measures to boost their collaboration in economy, trade, agriculture, education-training, and culture.
The Vietnam-Japan relationship is now in the best period since the two sides set up their diplomatic relations, with strong partnership from central to local levels, he noted.
He said he hopes that through the conference, Japanese investors will get a better understanding of Nghe An and promote their investment and operation in the province, while making plans for long-term operation in the locality.
Hue asked leaders of Nghe An to work harder to improve its business and investment environment, speed up administrative reform at all levels, design policies to attract resources, and promote the transformation of economic structure and growth model.
Local firms should be more creative and strengthen their connections to meet the demand of Japanese investors, while popularizing the potential for cooperation and business in their locality, he said.
Hue suggested that Nghe An should organise the event twice a year to deal with obstacles facing bilateral affiliation in a timely manner.
HCM City invests over 30 trillion VND in southern localities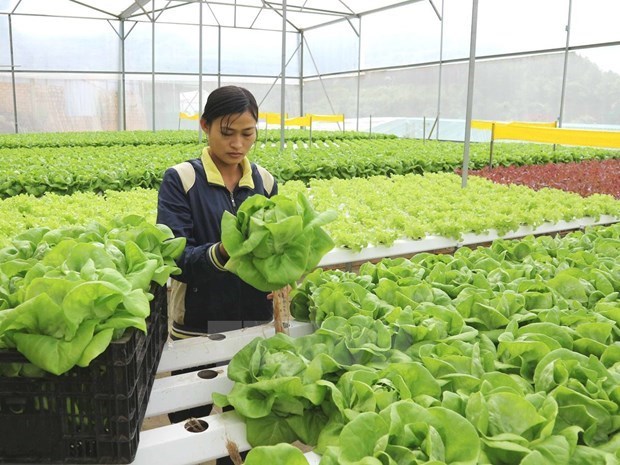 Ho Chi Minh City's firms have invested over 30.11 trillion VND (1.29 billion USD) in production facilities, factories and farms in southern localities over the past seven years, the municipal People's Committee has said.
The investment was made under a trade cooperation programme between the southern metropolis and these localities.
Besides, HCM City has provided about 3 trillion VND (129 million USD) for farmers each year in support of their production.
Under the programme, HCM City and the localities worked together to carry out trade promotion activities, and developed goods distribution systems and supply chains.
The connectivity has contributed to meeting consumption demands of HCM City's residents while promoting goods production in the localities, especially agro-forestry-fishery products.
Vietnam, RoK seeks cooperation chances in robot industry, automation
A seminar to promote investment of Vietnam and the Republic of Korea (RoK) in robotics industry and automation took place in Hanoi on April 26.
The event was organised by the Foreign Investment Agency under the Ministry of Planning and Investment, in cooperation with the Vietnam Association for Supporting Industries and the ASEAN-Korea Centre (AKC).
The seminar was designed to help domestic businesses to meet with their RoK counterparts and provide information for cooperation in robotics industry and automation.
It also helped Vietnamese localities to call for investment from the RoK and seek business opportunities in the two countries, as Vietnam and the RoK aim to bring bilateral trade to 100 billion USD in 2020.
The RoK is now among most important partners of Vietnam as the largest investor, the second leading official development assistance provider and the third biggest trade partner.
The Northeast Asian nation has to date launched 7,700 projects in Vietnam with a combined registered capital totaling 64 billion USD, while bilateral trade hit 62.6 billion USD in 2018.
The Vietnam-Korea Free Trade Agreement (VKFTA), which took effect in 2015, has opened various chances in trade and investment. Vietnam has encouraged investment of RoK firms in the fields of infrastructure, high technology, renewable energy, along with technology transfer, supporting industry development, helping Vietnamese businesses join the global manufacturing and supply chain.
Speaking at the event, Deputy Minister of Planning and Investment Vu Dai Thang said Vietnam has recorded numerous positive results in economic development with high and stable growth rate. The country also boasts favourable investment incentives and improving business climate, he stressed.
Vietnam has implemented a science and technology development strategy for the 2011-2020 period and prioritised achievements of the Fourth Industrial Revolution. As a result, the country has seen an increasing demand of businesses for robotics and automation to enhance competitiveness and international economic integration.
Thang said that Vietnam has gradually become a strategic manufacturing hub of international corporations. Up to 130 foreign partners have registered to do business in Vietnam, with combined capital worth 346.5 billion USD. Of the figure, more than 180 billion USD were poured into key economic sectors such as manufacturing industry, infrastructure development, construction, energy, services and tourism, said the official.
The event drew the participation of about 50 RoK businesses, including 11 in manufacturing, robot production and automation, Secretary-General of the AKC Lee Hyuk said, adding that those firms expect to share information, technology and seek partners in robot application in Vietnam.
Participants discussed and assessed trade-investment cooperation between Vietnam and the RoK over the time and proposed measures to tackle difficulties, especially in robotics industry and automation. They also put forward trends and orientations to further promotion the bilateral cooperation in the coming time.
Ground broken for first farmer support center in Mekong Delta
Lavifood Joint Stock Company today, April 26, organized a groundbreaking ceremony for the country's first support center for farmers in the Mekong Delta province of Tra Vinh's Cang Long District.
The Lavifarm center is expected to play a vital role in supporting farmers and giving advice on plants and crops to farming communities to meet the demands of the local market.
In addition, Lavifarm will offer technical and agricultural solutions to boost output and support farmers in preserving farm produce.
Further, the center will help farmers keep pace with the tech era and produce more value, raising the competitiveness of agricultural products. A series of brands of regional products will be built as well.
Covering a projected area of 17 hectares in Binh Phu Commune, the farmer support center is scheduled to feature four main areas: a supermarket, service area, packaging area and warehouse.
Apart from its farm, used for transplanting and propagating plants, the center will also have a vegetable packaging chain and dry and cold warehouses.
The center, which will be put into service in June next year, is an important part of a hi-tech agricultural value chain oriented toward logistics-based development for the fruit and vegetables sector.
Market expansion key to boosting farm produce sales
Besides preferential policies, negotiations to expand markets are crucial to step up sales of agricultural products of the Mekong Delta and the rest of the country, said Nguyen Do Anh Tuan, director of the Institute of Policy and Strategy for Agriculture and Rural Development.
At a conference on hi-tech agriculture development, held in Tra Vinh Province today, April 26, Tuan said that the Government has attached great importance to the development of markets for local farm produce.
Last year, Vietnam worked with many importing markets, including China and the European Union, to expand markets for local products. As a result, 173 out of 350 requirements of importing markets were relaxed.
As for the Government's incentives for the sector, Tuan complained about the lack of resources to carry out these policies.
Tran Lam Hong, deputy general director of the Saigon Union of Trading Cooperatives (Saigon Co.op), said that HCMC consumes some 1,500 tons of vegetables and fruits per day. Of this volume, Saigon Co.op supplies some 250 tons.
The market demand is high, so retailers must work directly with farmers and cooperatives. However, retailers are not responsible for the job.
Hong proposed developing vegetable and fruit production and business entities.
Vietnam holds strong potential in agriculture, with half of its farm produce being exported. Last year, the country generated more than US$40 billion from farm produce exports and was one of the top 15 farm produce exporters worldwide.
Vegetables and fruits, seafood and furniture are expected to be the largest export earners of the sector in the coming period.
Experts say red tape removal a must for industrial property
Vietnam should further streamline red tape for industrial property investments while publicizing broadly the range of land lease fees with a view to spurring growth in the sector, experts have suggested.

According to the Ministry of Planning and Investment, the flow of foreign direct investment (FDI) into industrial parks accounts for 35 - 40 per cent of the country's total annual additional FDI. Last year, Vietnam attracted a total of nearly US$35.46 billion in registered FDI, of which more than US$8.3 billion were for local industrial parks and economic zones.
The Vietnamese economy has been shifting towards further domestic production and exports, which creates a crucial premise for the development of key industrial parks and economic zones.
Nguyen Tran Nam, chairman of the Vietnam Real Estate Association, said that the country has developed into one of the most attractive investment destinations throughout the Southeast Asian region, particularly in the field of industrial production.
The domestic real estate market has witnessed stable growth in recent years while enjoying many upbeat developments in terms of market and incentives. This is believed to help accelerate the growth of industrial real estate which is widely considered as the most attractive sector in terms of investment, Nam noted.
He added that the market would enjoy robust growth in the short, medium, and long term if the State provides enough additional incentives and support to fully utilize its potential.
Furthermore, fresh market developments are giving an impetus to the domestic industrial property market. Most notably the ongoing US-China trade tensions are reckoned to lead to the shift of FDI flows into some Asian countries, including Vietnam. Some industrial groups and multi-national corporations are seeking investment opportunities and locations for their upcoming projects.
With these conditions, an array of golden opportunities is set on the horizon for the industrial real estate market. In order to make the most of these, the country needs to create more favourable conditions to lure additional FDI inflows, experts recommended.
Dang Hung Vo, former Vice Minister of Natural Resources and Environment, stressed the need to make progress in all aspects with the aim of attracting additional foreign investment. The Government should make further investment into key infrastructure and multimodal transport networks to reduce logistics costs and enable them to serve upcoming projects.
The Government is being urged to foster reforms to simplify administrative procedures, including those related to customs, and increase efficient linkages among economic sectors.
Land use fees in nationwide localities must be defined and publicized broadly in order to breed more confidence among investors. This will enable financiers to be updated on the fees and relevant costs. Localities need to offer additional incentives with regard to land leasing, production facilities, and technical infrastructure.
Industrial property has been subsidized by the State as the establishment of industrial parks must be submitted to the Prime Minister for approval. Moreover, industrial park developers have to ask for permits from the heads of provincial-level People's Committees for industrial cluster projects, Vo said.
He proposed that the establishment of industrial parks should be carried out as planned previously, rather than going down the path of seeking for permission from local authorities.
Southern localities boost links in trade, investment promotion
Officials of 21 southern provinces and cities gathered at a meeting in Ngoc Hien district, Ca Mau province, on April 25 to review their five-year cooperation in trade and investment promotion.
They reported that in the last five years, they organised nearly 2,450 events to promote trade and assist businesses to popularise Vietnamese products in the domestic and foreign markets.
Those activities included nearly 90 overseas fairs and exhibitions, about 220 other overseas promotion events, and more than 125 fairs and exhibitions at regional and provincial levels in different Vietnamese localities. More than 780 domestic marketing programmes attracted over 9.5 million visitors.
In 2018, trade promotion centres of the southern localities carried out nearly 730 trade promotion events, supporting nearly 17,000 local businesses. They accounted for over 50 percent of such activities nationwide, according to the Vietnam Trade Promotion Agency under the Ministry of Industry and Trade.
The localities have worked to boost exports to traditional markets like the US, Russia, the EU, Japan, the Republic of Korea, China, Hong Kong (China), Laos, Cambodia and Myanmar. They have also helped local firms expand their markets to new and potential ones such as the Middle Eastern, African and Arab countries.
Sharing local experience, Director of Ho Chi Minh City's Investment and Trade Promotion Centre (ITPC) Pham Thiet Hoa said every year, his centre coordinates with provinces and cities nationwide to organise investment promotion conferences to learn about investors' demand and introduce potential investment fields to them, thus inviting domestic investors to HCM City.
The ITPC has also worked closely with foreign diplomatic agencies in Vietnam such as embassies, consulates and business associations to help seek information about and access foreign investors, Hoa noted.
Meanwhile, Director of Ca Mau's centre for investment promotion and business support Quach Van An said his province boasts favourable conditions for developing many sectors like agriculture, forestry, fisheries, renewable energy, food processing and tourism, but they are not the prerequisites for attracting and keeping investors. The important factor is an optimal business climate and legal corridor and authorities' support for businesses.
Deputy Director of the Lam Dong centre for investment, trade and tourism promotion Nguyen Van Hung said the province have implemented various activities such as advertising its images and tourism on publications, websites, newspapers and social networks; assisting enterprises to take part in tourism fairs and workshops; and organising FAM and press trips for domestic and foreign delegations. They have generated good effects on local tourism.
At the meeting, the southern localities agreed that they will enhance cooperation in the time ahead, especially in programmes connecting provinces and cities in the region, to capitalise on each locality's advantages. Their trade promotion activities will focus on consolidating the domestic market and diversifying export destinations.
Exports of building materials post good growth
According to the Building Materials Department under the Ministry of Construction, the construction material market has not seen much fluctuation in the first months of this year but exports of some products have recorded fairly high growth compared to the same period last year.
For instance, although steel products have continuously encountered difficulties because of trade protectionism lawsuits, production of raw iron and steel still strongly soared in the first quarter of this year. In March alone, production of raw iron and steel exceeded 1.68 million tons, up 56 percent over the same period last year.
As for export, iron and steel exports hit 1.7 million tons, worth US$1.1 billion, in the first quarter of this year, up 24.2 percent in volume and 9.3 percent in value over the same period last year. Steel industry is expected to have good growth prospect in the near future as the construction of several steel plants will be completed, sending the growth of steel industry this year to about 10 percent higher than previous year.
However, steel industry also has to face with a few difficulties caused by trade protectionism tendency, dependence on global material price and power price hike. According to calculation of the Vietnam Steel Association, with an increase of 8.36 percent in electricity prices, the price of steel will possibly climb around VND100,000 per ton.
Similarly, production of cement for export reached 8.55 million tons in the first quarter of this year, worth $364.5 million, up 0.9 percent in volume and 23.3 percent in value compared to the same period last year.
The Ministry will review and supplement the list of building materials that can be produced domestically in order to limit imports of them and timely resolve entanglements about minerals for production of building materials and cement.
Potential of canned fruits processing industry
The current canned fruits market is fairly vibrant, with current consumer tastes, it is expected to open new way for domestic canned fruits processing industry.
Years ago, some enterprises invested in canned fruits production lines. This was considered as a lifebuoy for domestically-grown fruits but canned fruits production still encountered difficulties because local material source was not steady and of low quality.
Most Vietnamese consumers prefer fresh fruits to processed fruits. Meanwhile, transport cost and discount for retailers were high so profits from domestic market were extremely low. Therefore, most canned fruits products were for export. Nevertheless, canned fruits products had to go through strict control from import markets so many products did not meet standards.
In future, changes in consumption tendency will help the fruit processing industry to flourish. Canned fruits products have been available on the market for a long time. Vietnamese consumers have been familiar with canned fruits products, such as canned lychees and pineapples.
However, since fruit tea drinks entered Vietnamese market and quickly attracted attention of young consumers. As fruit tea drinks use various fruits, including mango, apple, pear, apricot, peach, rambutan, longan and lychee, Vietnamese consumers start to pay attention to processed fruits products.
Currently, there are several canned fruits suppliers in the market with several choices of local or imported products. In long term, if consumption becomes more smoothly, firms will invest more in developing production then consumers will have more options of canned fruits products.
HCMC invests over US$1.29 billion in southern provinces, cities
Businesses in HCMC have invested in 42 production plants and establishments, 72 farms and farm complexes in provinces and cities in the southern region with capital totaling VND30,112 billion (US$1.29 billion).
Of the total funds, VND3 trillion is supplied for farmers of clean vegetable and breeding farms a year.

According to the city People's Committee, the trade cooperation program between HCMC and southern provinces and cities has been implemented for seven years and more and more promoted efficiency.
Through the program, HCMC and provinces have implemented many trade promotion events, formed connectivity relations to create goods sources and develop distribution system and domestic goods supply chains.
Goods produced in provinces and cities have been present in the wholesale and retail distribution systems of the city, contributing in meeting consumption demand of city residents and positively impacting goods production activities in localities.
The program has made businesses feel secure to invest and connect to develop production and trading, build plants, expand farms and provide famers with capital to cultivate and breed, assist production cooperatives and develop distribution system.
Danang promotes direct air service to Taiwan's Kaohsiung
The Tourism Department of Danang City and local companies have jointly presented tourism products and services and are now promoting an upcoming direct air link between the central coast city and Kaohsiung at Taiwan's Fullon Kaohsiung Hotel.
There will be three weekly flights on the Kaohsiung-Danang route, which is slated for launch on August 10 and operated by local budget carrier Jetstar Pacific, said Truong Thi Hong Hanh, deputy director of the municipal tourism department.
The airline launched the Taipei-Danang air service on December 2016, with five weekly flights.
Hanh was quoted by the Danang Tourism Promotion Center as saying that the presentation was held to promote cooperation among tour operators in Danang and Kaohsiung.
Danang is expected to offer Taiwanese travel agencies a wide selection of tourism products and services, ranging from beach resorts to festival and event venues, according to Hanh.
Meanwhile, Taiwan remains one of the top 10 source markets for Danang's tourism sector. Last year, over 36,400 Taiwanese visited Danang, up 30% year-on-year. The first quarter of the year saw the city welcoming more than 14,200 Taiwanese visitors.
Yeah1's pretax profit falls 80% following incident with YouTube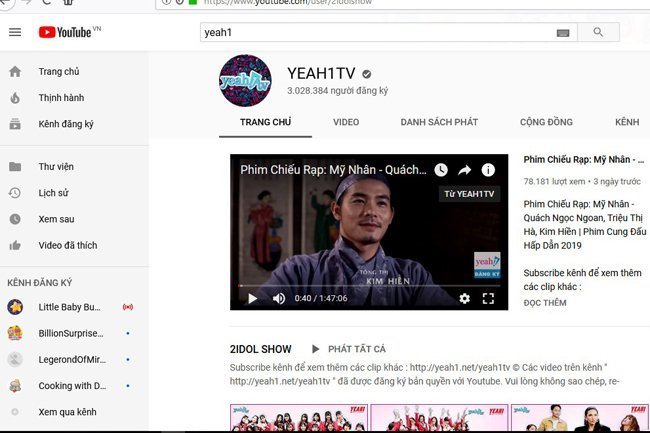 A screenshot of the homepage of Yeah1's YouTube channel. The pre-tax profit of Yeah1 during the first quarter of 2019 was posted at over VND8 billion, down almost 80% against the year-ago figure 

The pre-tax profit of digital media group Yeah1 in the first quarter of the year was posted at over VND8 billion, down almost 80% against the year-ago figure of VND39 billion, the local media reported.
The drop was attributed to the termination of the partnership between the firm and YouTube.
A Yeah1 source said the increasing costs of investing in high-quality media content, which is part of the firm's strategy to develop its own channels, had caused its consolidated pretax profit to plunge.
More money was needed to lease new office spaces, organize events and host communications activities related to the recent incident between its subsidiaries and YouTube, which led to the profit fall in the first quarter.
As such, given Yeah1's target revenue of VND2 trillion and target pretax profit of VND180 billion for this year, the firm has only completed some 19% and 4% of these targets, respectively.
In early March, Yeah1 ran afoul of the terms of the Content Hosting Agreement with video-sharing site YouTube.
YouTube in a statement sent to Yeah1 said that SpringMe, in which Yeah1 holds a 16.5% stake, had repeatedly violated YouTube's policies on selecting and managing channels.
The media group, as a result, saw its YEG stocks on the local exchange floor sharply dipping for many consecutive sessions, and the rate now sits at approximately VND108,000 per share, down from the previous VND250,000.
Yeah1 has announced its financial report for the quarter, with net revenue reaching VND387 billion, rising by more than 17% against last year.
As of March 31, the total assets of Yeah1 were worth some VND2.1 trillion, with over VND700 billion in cash and bank deposits and some VND260 billion in bonds.
Corporate bond market development necessary for stable capital supply for enterprises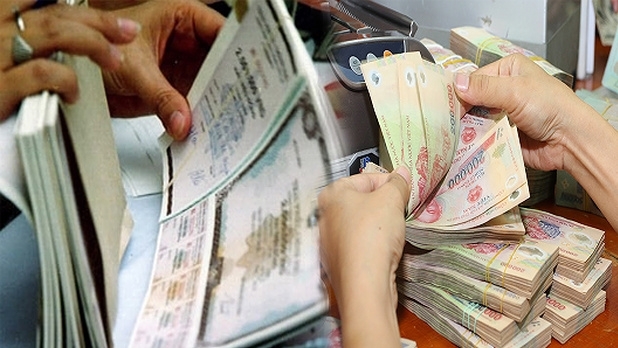 In recent years, the Vietnamese bond market has developed rapidly, with positive results in terms of both size and liquidity, effectively contributing to the mobilisation of resources for economic development. However, compared to the capital required for enterprises to boost their production and business operations, more solutions are needed to make the corporate bond market a stable capital supply for businesses, especially start-ups.
According to the Department of Banking and Financial Institutions (the Ministry of Finance), by the end of 2018, the bond market size reached about 39.12% of GDP. For the Government bond market, there has been development according to international practice related to products, liquidity and market organisation, reaching 27.25% of GDP by the end of 2018 and playing a key role in the bond market development.
For the corporate bond market, although there has been rapid growth in recent years, its scale is still small, only 8.57% of GDP by the end of 2018, while liquidity remains limited, not yet becoming a main capital mobilisation channel for enterprises. Therefore, when there is a demand for capital mobilisation, including medium and long-term capital, enterprises still have to access bank credit, which results in pressure and potential risks.
From such a situation, the requirement is to promote the development of the corporate bond market to create favourable conditions for enterprises to mobilise capital. Moreover, promoting the development of this market is a must to help promote it into a capital mobilisation channel that will play a key role for enterprises to develop their production and business operations.
Among the solutions implemented to develop the corporate bond market, it can be said that the completion of the institutional policy on issuing corporate bonds plays a fundamental role. Deputy Head of the Department of Banking and Financial Institutions, Nguyen Hoang Duong, said that, currently, the legal framework for initial public offering (IPO) and private investment of public equity (PIPE) is developed synchronously from the law and decree levels to guiding document level, meeting the capital mobilisation needs of enterprises and gradually approaching international practices. Accordingly, IPO is being held under the provisions of the Law on Securities, while PIPE has also been specified. The Ministry of Finance also pays great attention to promoting businesses to raise capital through issuing bonds to increase the supply for the corporate bond market.
In addition to the above solutions, the issuance of regulations and the operation of investment policies by investors in the bond market in general and the corporate bond market in particular has been basically completed. According to the Ministry of Finance, there is the participation of commercial banks, investment funds, insurance enterprises, securities companies, foreign investors and individual investors in the corporate bond market. In particular, commercial banks are playing a key role as they are the biggest investor in the market due to good financial potential.
To support the development of the corporate bond market, the legal framework for credit rating services has been issued and is being implemented. Currently, the Ministry of Finance is considering registration documents so that organisations wishing to provide credit rating services can deploy them in the bond market. "The restructuring of securities businesses has been actively implemented, through restructuring their organisation, improving financial capacity, expanding the scope of operations and improving service quality when participating in the bond market," said Chairman of the Board of Directors of the Hanoi Stock Exchange, Nguyen Thanh Long.
At a member meeting of the Government bond market held earlier this year, there were various new solutions introduced to orient the market development and action plans in 2019. In particular, for the corporate bond market, it is expected that an information centre on corporate bonds will be established in Hanoi, along with other key measures, such as encouraging businesses to mobilise bond capital and follow the process of revising the Securities Law on the following contents: the concept of professional investors, conditions and procedures for IPO, the ability to attach credit ratings to IPO, scope of issuance and transaction of corporate bonds in PIPE.
It is important that the State Bank of Vietnam and market members continue to coordinate and exchange information on plans, timing, terms and stated interest rates at bond issuance and monetary administration.
In addition, coordination between the Ministry of Finance and the State Bank in completing the policy mechanism related to the development of the bond market in connection with the monetary market also needs to be strengthened, besides enhancing periodical exchanges and consultation between management agencies and market makers on market developments and bond issuance.
These are important solutions, playing a decisive role in realising the Party and Government's policies and orientations in order to develop the corporate bond market into an important medium and long-term capital mobilisation channel for enterprises, which will help them gradually reduce their dependence on the banking system and create favourable conditions for businesses to mobilise bond capital, especially PIPE deals.
JLL: Hai Phong a 'hot' location for industrial investment
Northern Hai Phong city has been viewed as a "hot" location for industrial investment over recent years after attracting a large amount of FDI, which garnered attention and support from authorities and was supported by a major infrastructure boom and numerous government incentives, according to JLL's "Northern Vietnam: A Vision for Growth" report released on April 25.
Given its proximity to China, just 200 km from the border, Hai Phong is widely regarded as a China+1 manufacturing base in ASEAN to take advantage of the China-ASEAN FTA.
The Hai Phong Economic Zone, which offers companies preferential treatment when they set up operations, is also acting as a catalyst to tempt more investors to the region.
The city is one of five in Vietnam, with direct connections to central authorities. Home to nearly 2 million people, it is the third-largest city in the country, after Ho Chi Minh City and Hanoi.
Its rapid urbanization has underpinned its exceptional growth over the last five years. Located along the main economic corridor on the northeast coast, Hai Phong is set to become the main gateway for imports and exports in the northern region, which will provide companies with easy access to the transporting of goods globally.
Hai Phong's infrastructure has also undergone significant improvements through the completion of three core projects: the Hanoi - Hai Phong Expressway, the Tan Vu - Lach Huyen Highway, and Dinh Vu - Cat Hai Bridge. By facilitating links to the Hanoi - Lao Cai Expressway, these projects will help reduce travel times between the northern border province of Lao Cai and the Hai Phong International Gateway Port (HIGP) to approximately six hours.
The central government has also shown its commitment to continuing Hai Phong's exponential growth by offering numerous special tax incentives, which have paved the way for it to become a foreign investment magnet.
The constant improvement of Hai Phong's Provincial Competitiveness Index (PCI) demonstrates authorities' continued efforts to enhance the business environment, which will further bolster the city's attractiveness.
The report also noted that Hai Phong is gearing up to become an internationally-recognized trading hub and a driving force for development in northern Vietnam.
Mr. Stephen Wyatt, Country Head of JLL Vietnam, said there are many examples of port cities around the world, including London and Amsterdam, which once developed successfully can drive economic activity and serve as a crucial connection between sea and land transport. "Hai Phong has all the necessary ingredients to develop into a true global port city, and with continued investment in the development of new roads, improvements to the city's traffic management and rail and inland waterways, increases to workplace productivity, efficient customs and administrative procedures, development of support industries, and the embrace of innovation and technology, we firmly believe that Hai Phong has a vision for growth that is set to continue for many years to come," he added.
Industrial real estate to continue growth momentum
Promoting Vietnam's process of industrialization and modernization as well as enhancing the attraction of FDI during the process will result in the country's industrial real estate market seeing strong growth momentum in the time to come.
This was the main topic of discussion at the "Vietnam Industrial Property in 2019: New Context - New Policy - New Opportunities" forum held by the Vietnam Real Estate Association (VNREA) in cooperation with the Central Institute for Economic Management (CIEM) at the Ministry of Planning and Investment (MPI) on April 23 in Hanoi.
Mr. Nguyen Tran Nam, Chairman of VNREA, said that Vietnam has been growing and continues to grow into a major destination attracting investment in the manufacturing industry in Southeast Asia, with investors having greater belief in its industrial real estate market. "Industrial real estate is therefore considered to be the most attractive segment in 2019 as well as in the medium and long terms," he said.
Similarly, Mr. Nguyen Dinh Cung, Director of CIEM, said the attractiveness of Vietnam's industrial real estate market is currently higher than the regional average and continues to be driven by factors such as low production costs (less than $1 per hour - the lowest in ASEAN), low labor costs, and reasonable land rentals.
He added, however, that the development of Vietnam's industrial real estate market is still inadequate. "Infrastructure for multimedia connections lacks synchronization, infrastructure at factories has low technical standards, the contribution of industrial parks and economic zones to GDP is not commensurate with potential, and the policy orientation of the State is not clear or strong enough to support investors and promote the market's development," he said.
Mr. Tran Quoc Trung, Deputy Director of the Department of Economic Zone Management at MPI, said it is necessary to study, build, and diversify models of industrial zone development, such as ecological industrial parks, industrial parks linking sectors, support industrial parks, and specialized industrial parks according to sectors. "At the same time, it is necessary to complete the provisions of the law on industrial, urban, and service models to synchronously develop technical and social infrastructure," he noted.
According to Mr. Nam, to continue attracting quality FDI inflows, thereby creating momentum for industrial real estate to break out and develop towards sustainability and efficiency and meet requirements in the new context, the government should focus on innovating thinking and management methods and improving the capacity and efficiency of State management over the real estate market in general and industrial real estate in particular, based on the market mechanism and international practices in line with Vietnam's circumstances.