Bumps ahead for the giants of transport
After enduring months of losses, state-owned transport giants Vietnam Railways and Vietnam Airlines are pinning hopes on a financial lifebuoy to recover from the incurred losses – but even significant support may not be enough for them.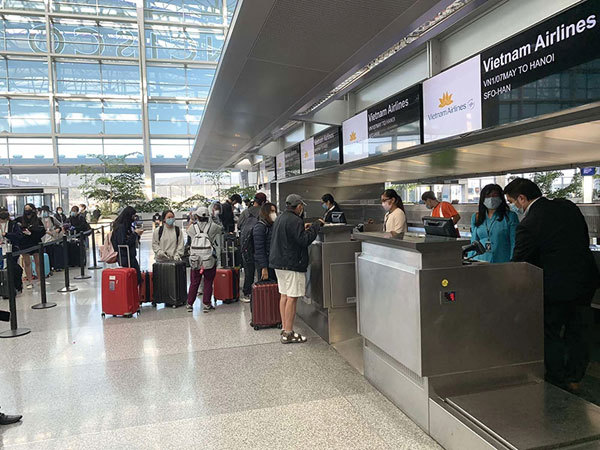 Vietnam Airlines has been clamouring for more financial assistance as the pandemic refuses to subside.
The national flag carrier Vietnam Airlines on July 7 signed a credit agreement of VND4 trillion ($174 million) with the three commercial banks of SeABank, MSB, and SHB in the form of refinancing of the State Bank of Vietnam.
The airline's chairman Dang Ngoc Hoa said, "When the amount is disbursed, we will use it to pay overdue debts and for services to serve business activities. It does not use the money for investment activities, purchase of aircraft, or other actions that are not directly related to its ongoing business activities."
The sum is part of a package of VND12 trillion ($522 million) approved by the National Assembly last December to support the carrier amid the global health crisis. The state now holds the controlling stake of 86.19 per cent in Vietnam Airlines. Together with the signing, it is taking necessary steps to complete procedures for share issuance for existing shareholders by the end of the third quarter to increase its charter capital to VND8 trillion ($348 million).
Aviation experts said that the sum may be not enough for the national flag carrier to weather the COVID-19 storm. Meanwhile, regional countries are giving greater support. For instance, the aviation sector in Singapore announced a S$870-million package in its 2021 budget.
Last year, Vietnam Airlines incurred losses of about VND14 trillion ($609 million). In the first half of 2021, the airline was estimated to lose another VND10 trillion ($435 million). Worse still, in June the Ministry of Planning and Investment (MPI) said that Vietnam Airlines' overdue debts reached VND6.24 trillion ($271 million), and the carrier is now at risk of bankruptcy.
Along with Vietnam Airlines, Vietjet and Bamboo Airways are also facing difficult times. In a document sent to the MPI, the Vietnam Aviation Business Association (VABA) said Vietnam Airlines, Vietjet, and Bamboo Airways together lost around VND16 trillion ($696 million). At present, their short-term and due debts reached VND36 trillion ($1.56 billion), of which VND20 trillion ($870 million) come from Vietnam Airlines. Therefore, VABA proposes a similar refinancing package of up to VND6 trillion ($260 million) for the rest.
Aviation experts, however, said that it is not an easy road for Vietjet and Bamboo Airways to receive similar support because they are privately-run carriers.
Like airlines, businesses in the railway industry are also struggling to survive and waiting for an urgent financial support from the government. According to Vietnam Railways (VNR), the Commission for the Management of State Capital at Enterprises is going to submit to the prime minister this month its proposal for an urgent supporting package of a non-interest loan of VND800 billion ($35 million) to add to its working capital, which has seen a sharp fall since the beginning of this year.
VNR chairman Vu Anh Minh told VIR, "This amount is the minimum that we need. We propose to receive a loan with no interest rate and a reimbursement period extended till the end of 2022."
VNR also proposes a reduction of railway infrastructure fees for 2021 and the following years, while exempting, reducing, and extending the collection of land use fees for railway transport firms in 2021 to help them ease the challenges. "We pin high hopes on a recovery in 2022, so that we are able to pay back the loans from 2023. If the pandemic continues to drag on in 2022, we will face risks of losing all equity, thus having not enough capital to pay salaries for employees," Minh admitted.
Industry insiders, however, said that unlike with Vietnam Airlines, the path for VNR remains trickier as investment is not as popular.
La Ngoc Khue, former Deputy Minister of Transport said, "The railway industry faces many difficulties in normal times. Now, the pandemic adds more challenges, pushing it to its limits. The sector has attracted less attention from authorised agencies for decades, with downgraded infrastructure being a major issue."
Thus far, VNR has taken a number of actions to increase revenue, while saving cost to survive the difficult times. It has been focusing more on cargo transport to meet the rising demand, which lead to a double-digit growth last year. The growth momentum continues in 2021, as the current statistics from VNR let expect that the company's cargo transport will remain stable, increasing by 26.9 per cent on-year in volume and 21.8 per cent on-year in revenue since the beginning of this year.
Despite this, the positive signals in cargo transport could not help VNR cover the huge losses from passenger transport. VNR lost over VND1.3 trillion ($56.5 million) in 2020. In the first five months of this year, the railway industry cashed in total revenues of VND1.11 trillion ($48.2 million), equal to 81 per cent of the same period last year and 60 per cent of the same period in 2019.
Worse still, VNR has more than 2,000 labourers who are underemployed due to suspension of trains. In May, the industry suspended nearly 400 trains.
Source: VIR 

The Vietnam Railways Corporation (VNR) is experiencing its toughest days in history as many trains have stopped running during Covid-19. Many workers have had to take unpaid leave.

Vietnam Airlines is in an extremely difficult situation as it continues incurring losses. Private airlines, including Vietjet Air and Bamboo Airways, have also been affected financially.