Banks make huge profits, have prosperous Tet
Overcoming a stormy year, commercial banks have reported huge profits for 2020. Bank share prices are standing firmly at high levels.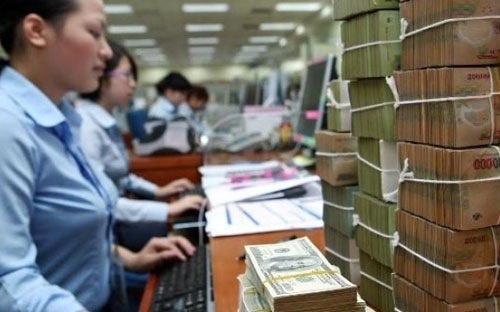 SHB has released its 2020 consolidated financial statements, which shows impressive business results.
The outstanding achievement was the settling of the problems related to Habubank, which was admitted into SHB some years ago, thus successfully reducing the bad debt ratio to 1.71 percent.
SHB reported pre-tax profit increase of 12.8 percent compared with the year before, reaching VND3.412 trillion and ROE of 15.9 percent. The net interest margin (NIM) was 2.8 percent, up by 0.8 percent compared with 2019.
As of the end of 2020, the total assets of the bank had reached VND412.9 trillion, an increase of 13.1 percent over late 2019. Its regulatory capital had reached VND37.277 trillion, stockholder equity VND24.393 trillion and charter capital VND17,557 trillion.
An Binh Bank (ABBank) has reported pre-tax profit of VND1.368 trillion for 2020, up by 11.3 percent compared with 2019. The bank put its shares into transactions on UpCom in 2020.
The bank saw total assets increasing by 14 percent to VND116.5 trillion by the end of 2020. Thanks to strict measures to control lending, the bad debt ratio was curbed at 1.44 percent. The other indicators are also good with ROA at 1.4 percent and ROE 16.5 percent.
VietinBank, one of the 'big four', had pre-tax profit of VND17.07 trillion. Its total assets increased to VND1,300 trillion by the end of 2020, up by 8.1 percent. The result was very encouraging if noting that VietinBank slashed lending interest rates in 2020 to support enterprises suffering from Covid-19.
Other commercial banks have also reported satisfactory business results, including Military Bank (MB) with the pre-tax profit of VND10.7 trillion (up 6.5 percent) and the post-tax profit of VND8.262 trillion. Its bad debt ratio was low, 1.09 percent of outstanding loans.
Cash deposits continued to flow into the bank with the ratio of demand deposits on total deposits (current account savings accounts – CASA) exceeding 37 percent (VND115.194 trillion/VND310.96 trillion).
As for BIDV, though its profit decreased because of higher provisioning, the pre-tax profit was still high, VND9.214 trillion.
On February 1, CTG shares of VietinBank saw the price increase by VND1,500 to VND32,000 per share, despite the VN Index decrease of 21 points.
Also on February 1, TCB shares of Techcombank saw the price increase by VND200 to VND32,200, and VPB shares of VP Bank by VND1,000 to VND31,000.
In late 2020 and the first half of January 2021, the bank share prices increased continuously. As of mid-January, the prices of many bank shares had increased by 50-90 percent compared with early 2020. 
M. Ha

Commercial banks are facing challenges, including an increase in bad debts because of Covid-19 and pressure that has forced them to increase charter capital. But bank shares remain attractive to investors.

Vietnamese banks will only be allowed to issue chip cards from March 31, 2021, according to a State Bank of Vietnam (SBV) draft circular.