Banks cut priority loan interest rates

Soon after the US announced a 0.25 % cut in the benchmark interest rate on July 31 seven Vietnamese banks, including State-owned lenders, announced a cut in interest rates on dong loans of at least 0.5 % to firms in the Government's priority sectors.
Good short-term effects for Vietnam after Fed's rate cut
Four Vietnamese banks cut rates to boost economy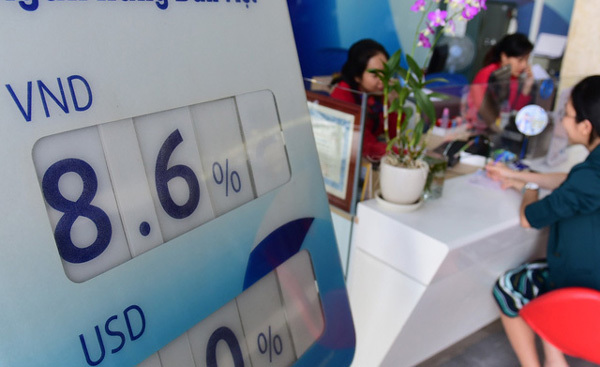 Seven Vietnamese banks, including State-owned lenders, announced a cut in interest rates on dong loans of at least 0.5 per cent to firms in the Government's priority sectors.— Photo tuoitre.vn
This is the second time this year that banks have cut lending interest rates to comply with the Government's instruction to support production and businesses.
The first was done early in the year.
Analysts said in addition to the US's rate cut and Government's policies to support businesses, the plentiful đồng liquidity is also a key factor that has encouraged many lenders to cut loan interest rates.
Billions of dollars came into the market in the first six months through mergers and acquisitions.
The M&A deals have been worth almost $5.43 billion, 88 per cent of which involved foreign investors acquiring stakes in Vietnamese firms, according to data released at the 2019 Vietnam Mergers and Acquisitions Forum.
The State Bank of Viet Nam (SBV) then pumped an equivalent amount in dong to mop up the dollars from the market.
In the first quarter alone this amount came to VND150 trillion (US$6.52 billion).
The low inflation rate has also encouraged the lenders to cut their rates.
According to the General Statistics Office, in the first six months prices rose by only 2.64 percent.

Analysts said the rate cuts this time are expected to have a strong impact on the financial market thanks to the participation of many major banks.
They said lowering loan interest rates to support enterprises in particular and the economy in general is a must especially at a time when Vietnam's exports are showing signs of slowing down and many economies around the world have loosened monetary policy.
In June exports were estimated to be US$21.6 billion, down 1.4 per cent from the previous month.
If Vietnam does not loosen its own monetary policy it would be at a competitive disadvantage.
Many experts said however cutting interest rates would be difficult for many banks since they cannot cut their deposit interest rates if they want to compete with other asset classes.
The only way for them then would be to accept a reduction in the interest rate spread, they said.
Many banks still do not have a lot of medium- and long-term deposits.
Thus, only lenders with a surfeit of short-term deposits would be able to cut interest rates and only on short-term loans, the experts said.
This would mean a big difference in interest rates within the banking sector, depending on each lender's financial health, they pointed out.
A SBV spokesman said the US's rate cut created an opportunity for Vietnam to reduce its own interest rates and stabilise its exchange rates.
Analysts howver said there would be no further loan interest rate cuts this year after this one because banks' need for funds would be high to meet credit demand during the peak shopping season at the end of the year.
The SBV's road map seeks to further reduce the ratio of short-term deposits that can be used for long- and medium-term loans to 30 per cent at the beginning of next year.
Slower growth but competition still intense in aviation market
The aviation market saw growth slow down in the first half of the year.
It grew by 9.4 per cent to 38.5 million passengers, while growth in the same period last year was 14 per cent.
According to the Civil Aviation Authority of Viet Nam (CAAV), domestic airlines operated 153,000 flights, a 2.4 per cent increase.

However, market observers said there are no signs of competition cooling down.
Vietnam Airlines for instance recently had to roll out a new liberal baggage policy to attract passengers.
Passengers now have a free baggage allowance of 32 kilogrammes in business class and 23kg in economy.
The hand baggage allowance has now increased to 12kg from the seven kilogrammes.
Experts said Vietnam Airlines is facing intense competitive pressure with the establishment of more and more low-cost airlines, and its market share has shrunk significantly.
Last year Vietjet Air became the largest airline in terms of number of passengers carried on domestic routes with a 48.9 per cent share compared to Viet Nam Airlines' 39 per cent.
More carriers are being established, like Bamboo Airways, Vietravel and Vinpearl Air.
Bamboo Airways has the highest on-time performance since it started flying a few months ago and the highest passenger load factor of 90 per cent.
It recently announced plans to begin direct flights to the US.
Vinpear Air has also announced a number of ambitious plans such as flying on international routes and training pilots, technicians and other personnel.
Experts said the Vietnamese aviation market has outstanding prospects in terms of inter- and intra-regional passenger and freight transport, making it attractive to investors and causing intense competition.
According to the CAAV, in 2010-17 the aviation market achieved average annual growth of 16.64 per cent in passenger numbers and 14 per cent in cargo volumes.
Under the plan for the aviation industry approved by the Government, the number of aircraft will increase to more than 220 by 2020 and 400 by 2030.
There will be 23 airports and 144 million passengers a year by 2020 and 28 airports and 308 million passengers by 2030.
The International Air Transport Association estimated Vietnam to be the world's fifth fastest growing aviation market by 2035.
As for financials, in the first half of this year Vietnam Airlines' turnover was estimated at VND51.66 trillion (US$2.5 billion), a year-on-year increase of 5.5 per cent, and profit at VND1.65 trillion (US$71.73 million), up 30 per cent as compard with the set target.
Vietjet Air's turnover was up 24 per cent at VND26.03 trillion, and pre-tax profit was up 11 per cent at VND2.4 trillion.
It is estimated that the country would need at least 10 more airlines to meet the growing demand.
It now has five: Vietnam Airlines, Jetstar Pacific Airlines, Vietjet, Vietnam Air Services Company or VASCO, and Bamboo Airways.
VNS