Banks auction mortgaged assets to recover bad debt

Commercial banks are attempting to sell off a host of mortgaged assets, including real estate and cars, to speed up the settlement of huge bad debt.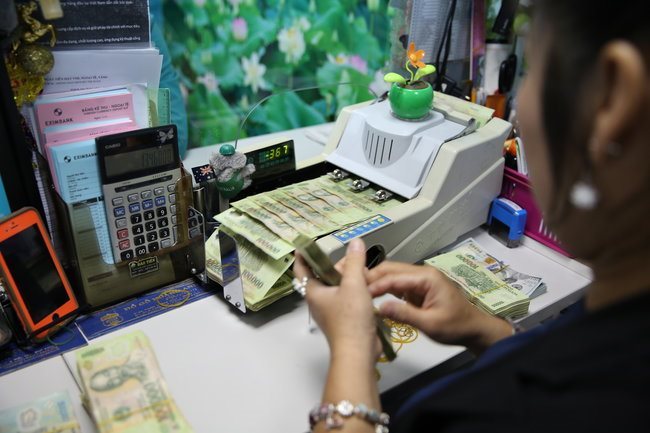 A bank teller counts Vietnamese banknotes. Local banks are trying to auction mortgaged assets to settle bad debt
The Dong Nai branch of the Vietnam Bank for Industry and Trade is trying to sell all the assets of a 45-hectare paper and pulp mill in Long Thanh District, owned by Tan Mai Mien Trung JSC. The company owes outstanding debt of more than VND4.3 trillion to the lender, reported Nguoi Lao Dong newspaper.
Recently, Saigon Commercial Bank announced its intention to put 20 four- to seven-seat cars and specialized vehicles up for auction to individuals and organizations. They are expected to recover over VND6 billion.
Meanwhile, Saigon Thuong Tin Commercial Bank is auctioning a lot of land lots and houses worth hundreds of billions of Vietnamese dong.
The Long An branch of Saigon-Hanoi Commercial Bank is also trying to sell bad debt totaling over VND8.7 billion from Pham Thi Tuyet Nhung, director of Angel Lina Investment Consultant Corporation.
Investigators in HCMC recently detained the 38-year-old Nhung for alleged fraud as her company was found to have set up nine fake property projects to defraud some 200 land buyers of roughly VND285 billion.
In addition to commercial banks, the State-owned Vietnam Asset Management Company (VAMC) is planning to auction hundreds of debts bought from credit institutions.
Its website is offering more than 1,100 items used as collateral for loans, including apartments, townhouses, villas, workshops, equipment, cars and even shares.
The State Bank of Vietnam (SBV) said in a report sent to the National Assembly, as much as VND968.89 trillion (US$41.6 billion) in bad debt had been settled between 2012 and August 2019.
Of the figure, credit institutions settled VND629.2 trillion (US$27 billion) in bad debt, making up 64.9% of the total, while the remainder was sold to the VAMC and other organizations and individuals.
The SBV said that a significant amount of bad debt had been settled, but the remaining debt still put at risk the operational safety and effectiveness of credit institutions. Most bad loans at poor-performing banks have yet to be resolved.
Further, the settlement and recovery of debt and mortgaged assets from the four commercial banks acquired by the central bank at zero Vietnamese dong have been fraught with difficulties.
The SBV explained that items of debt were being distrained due to their involvement in court cases or incomplete legal paperwork.
Meanwhile, J.P. Morgan pointed out in a recent report that favorable cyclical positioning is one of the defining features of the Vietnamese banking system.
The sector had asset quality problems in 2012-2013, which was managed well. Of note was the creation of VAMC, which provided a five-year timeline to write off bad debt. Further, banks were able to get funding against VAMC bonds, allowing growth to sustain, according to the U.S.-based investment bank. SGT

Reporting high profits, Vietnamese commercial banks have once again lifted concerns about profit growth limits.
National Assembly deputies have called on the State Audit of Vietnam (SAV) to inspect three debt-laden banks that were earlier taken over by the State Bank of Vietnam, according to NA Secretary Nguyen Hanh Phuc.