Attracting multi-billion dollars worth of investments to IZs, tycoon earns big money
The real estate firm of Dang Thanh Tam has attracted $1.2 billion worth of investments into its IZs within a short time, projecting a profit increase of 6-7 times in 2021 amid continued foreign capital inflow.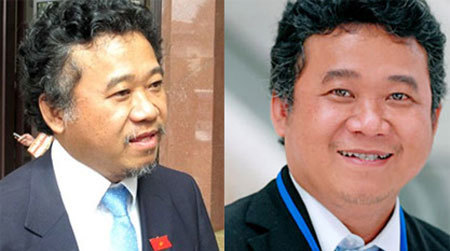 Dang Thanh Tam of Kinh Bac Urban Development Corporation
Kinh Bac Urban Development Corporation (KBC) has revealed an ambitious business plan with the expected total revenue of VND6.6 trillion in 2021 and the profit of VND2 trillion, or 6-7 times higher than 2020.
This is the highest profit the firm of the industrial real estate tycoon has ever planned. The plan was created after KBC attracted $1.2 billion worth of FDI, or 50 percent of the country's total capital, into its IZs, including Quang Chau in Bac Giang and Trang Due in Hai Phong.
Foreign capital keeps flowing into Vietnam which will bring big benefits to businesses and workers.
Reuters reported that Foxconn will invest $700 million more in Vietnam in 2021. One of Foxconn's key projects is Fukang technology complex, worth $270 million, located in Bac Giang province, developed by Foxconn Singapore Pte.
The plant is expected to put out 8 million computers a year, including iPads and MacBooks after Apple Inc requests its vendors to relocate their production lines out of China.
According to KBC, Foxconn plans to relocate its MacBook and iPad production lines to Quang Chau IZ in Vietnam.
Analysts say that Vietnam was the "center of the world" in 2020 with FDI reaching $28.53 billion, equal to 75 percent of 2019 and implemented capital reaching 19.98 percent, equal to 98 percent.
Asia continued to have the highest FDI in Vietnam in 2020, led by Singapore, South Korea, China, Hong Kong and Taiwan.
This reflects supply chain restructuring. Industrial real estate in Vietnam has become one of the most attractive business fields in the eyes of investors.
Foreign investors continue to pour their money into KBC. Dragon Capital has bought an additional 1 million KBC shares. The transaction has raised Dragon Capital's ownership proportion to over 10 percent, with 47 million shares.
Since the beginning of the year, foreign investment funds have collected 23 million shares and become big shareholders. During that time, KBC price soared from VND16,000 per share to VND38,000.
Tam's KBC now has a great opportunity to make a strong rise after one year of difficulty with big loans and a sharp yearly profit decrease.
In 2020, KBC reported debts payable increasing by twofold from VND6.052 tirllion in late 2019 to VND12.94 trillion in late 2020. Of this, short-term debts increased by 50 percent and long-term debts soared by VND3 trillion just within 2020. 
V. Ha

The industrial market is the only real estate sector that has enjoyed positive progress in both rental rates and occupancy rates during the COVID-19 pandemic.

Rents for industrial lands in HCM City and Hanoi have increased by two and 1.7 times respectively in the third quarter from a year earlier.