Apple looking to move AirPods production to Viet Nam

Apple's bestselling wireless earphones, AirPods, could be soon manufactured in Viet Nam, as component suppliers look to expand away from their...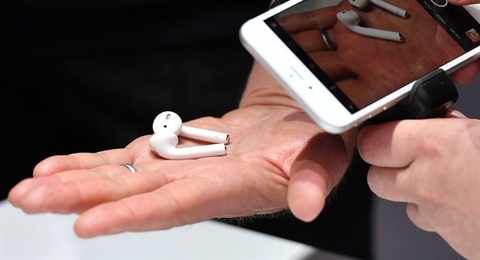 A customer takes a photo of Apple's AirPods. Two Chinese companies which produce components for the bestselling earphones are looking to expand production in Vietnam. 
The news was reported by theinformation.com.
The two suppliers, Luxshare Precision and Goertek, are seeking funding to begin moving some of the manufacturing process to Viet Nam, amid ongoing trade tensions between China and the US. One of the firms started trialling production earlier this year, but as the trade war rumbles on with no sure sign of settling, the companies are ramping up efforts towards the move.
Apple is trying to diversify its supply chain while continuing to shift manufacturing outside of China.
Since launching in 2016, Apple's AirPods have dominated the wireless headphone market, selling in the millions and reaching a 60% market share. The latest versions of the product, the AirPods 2 and AirPods Pro, have proved a Christmas hit, remaining sold out at many stores and forcing the tech giant to ramp up production to meet demand. Global shipments of all wireless earbuds are forecast to surge from 48 million pairs in 2018 to 129 million pairs by 2020, according to Counterpoint.
Apple's audio factory in northern Viet Nam has long made the company's wired earbuds, but this marks the first time the plant will take on the wireless variety.
According to a report by Nikkei earlier this year, Apple is exploring the consequences of sourcing 15 to 30 per cent of its output outside of China, as cost advantages start to dwindle. Viet Nam is seen as a natural alternative to China, thanks to its proximity and low cost of highly-skilled labour. Other tech firms like Samsung have long-established presences in the country.
"Many tech players are relocating or increasing production [in Viet Nam] to avoid tariffs, given that it is close to China, and has a relatively complete supply chain compared with other Southeast Asian countries," said Karen Ma, an analyst at Hsinchu-based Industrial Technology Research Institute.
Luxshare Precision and Goertek have seen strong growth thanks to the ‌runaway success of the AirPods‌, with their stock tripling this year. — VNS