Amid crisis, airlines seek ways to prosper
Suffering heavy losses due to the drop in passenger numbers under the impact of the Covid-19 pandemic, some airlines have boosted cargo transport services and made a profit. 
Taking advantage of this opportunity, one cargo airline is preparing to launch.
IPP Air Cargo Joint Stock Company, a member of the Inter-Pacific Group (IPPG), has submitted to the Ministry of Planning and Investment its project to establish a cargo airline operating domestically and internationally.
The project has total investment capital of VND2,400 billion, equivalent to $100 million, with 30% contributed by IPPG, and 70% by other shareholders. If approved, Air Cargo would take off in 2022.
The chairman of IPP Air Cargo Joint Stock Company registered for business on March 10, 2021. Mr. Nguyen Hanh (Johnathan Hanh Nguyen) is the chairman of IPPG. Its General Director and legal representative is Le Hong Thuy Tien (Johnathan Hanh Nguyen's wife). The company is headquartered in District 1, Ho Chi Minh City.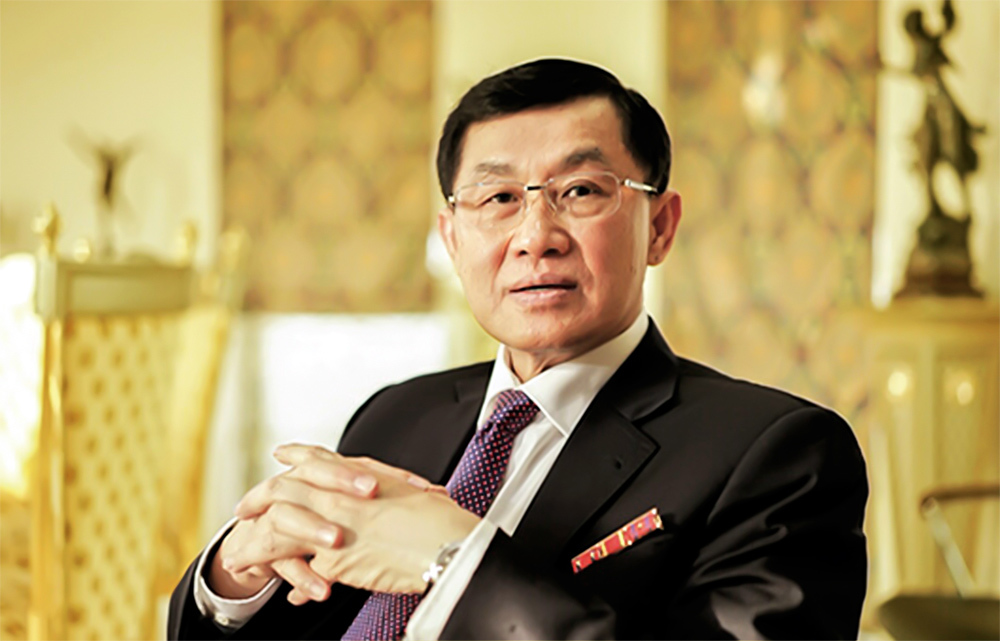 Chairman of IPPG Johnathan Hanh Nguyen
As planned, in the first year, IPP Air Cargo will operate five cargo aircraft. The number of aircraft will increase to seven in the second year and to 10 in the third year.
IPP Air Cargo plans to transport about 115,000 tons of cargo, generating $71 million in revenue in the first year. The firm aims to have the first commercial flight from the second quarter of 2022 and be profitable from the fourth year.
IPPG is a retail group of Vietnam, accounting for nearly 70% of the international branded goods market distributed in the country. It is also a major shareholder in Tan Son Nhat Airport Services Joint Stock Company (SASCO), Cam Ranh International Airport Terminal Joint Stock Company (CRTC). Johnathan Hanh Nguyen also holds the position of Chairman of both companies.
In 2020 and the first five months of this year, the number of passengers have been down, aircraft have been idle, and big losses have occurred. The freight and logistics segment, however, still maintains revenue and is even profitable.
For example, Noi Bai Cargo Services Joint Stock Company (Noibai Cargo - NCT) accumulated a total revenue of nearly VND697 billion, down 21.6% compared to 2019. Noibai Cargo's after-tax profit reached VND206, 75 billion, down 14.6%, but up 8% compared to the plan set at the beginning of the year.
In the first quarter of 2021, this business earned more than VND166 billion and after-tax profit of VND51 billion, a slight decrease compared to the latest quarter.
For Saigon Transportation Service Company, the profit in the fourth quarter of 2020 reached the highest level in three years. Its revenue in 2020 reached nearly VND693 billion, down 7.4%; after tax profit reached VND464 billion, down 7.5% compared to 2019. Notably, the gross profit margin of this firm, although down compared to the same period last year, was still very high, 78%. In the first quarter of this year, its revenue was VND196 billion, after-tax profit VND137 billion.
A way out for air carriers
When there are no customers, the demand for freight however still exists and even increases. Domestic airlines have considered the option of removing passenger seats to transport goods.
With the approval of the authorities, Vietjet Air was the first airline in the country to apply this method. In 2020, Vietjet Air transformed the structure of a number of aircraft, increasing its cargo capacity. The airline has transported more than 60,000 tons of goods between countries, and its freight revenue increased by 75% compared to the previous year.
In the fourth quarter of 2020, revenue from freight transport increased rapidly, reaching 75%, and it was 16% for the whole 2020. Through codeshare agreements, Vietjet's goods have traveled to the Americas and Europe.
For Vietnam Airlines, in 2020, the carrier also transported nearly 200,000 tons of goods with a revenue of over VND5,000 billion.
Logistics experts say that Vietnam is still controlling the pandemic well and in 2020 it set a positive growth rate. It is expected that Vietnam's GDP growth in 2021 can reach 6.9% under the best scenario. At that time, the aviation market will have a recovery, creating opportunities for logistics service businesses, including Vietnamese logistics enterprises.
A market study by Research and Markets Company shows that, in the next five years, when demand for global import and export cargo freight recovers after the pandemic, along with the active free trade agreements that Vietnam has signed, the big potential for Vietnam's air logistics sector will come.
Although Vietnam's air cargo transport accounts for only 0.23% of the total transport volume, it makes up 25% of the country's total export value because of the high value of goods.
Vietnam has six airlines but there is no cargo airline. Currently, more than 80% of goods imported and exported by air in Vietnam are transported by foreign airlines. Therefore, this is an opportunity to promote cargo transport by air. The establishment of an airline specializing in freight transport is considered a quick and reasonable step of Johnathan Hanh Nguyen. He is an experienced person in the aviation field as he used to be a financial inspector for Boeing Subcontractors and General Representative of Philippines Airlines in Indochina.
Bao An

Apart from cutting costs and reducing salaries, many airlines have had to reduce their workforce in the difficult context of the COVID-19 pandemic.

Despite a recovery in the final months of this year, the aviation industry is forecast to face further difficulties in 2021.