Airlines split on implementing floor price
Airlines continued to debate whether a floor price should be implemented with both supporters and naysayers making arguments for their case.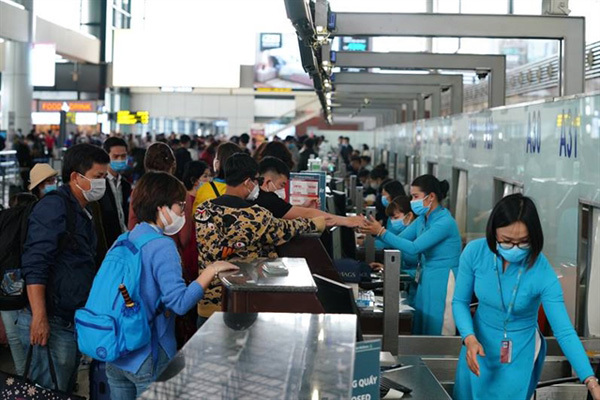 Travellers at check-in counters at Noi Bai International Airport in Hanoi. — VNA/VNS Photo 
Chairman of the board of Vietnam Airlines, the country's flag carrier and the largest airline, Dang Ngoc Hoa said floor prices have been used in many countries and it would produce a positive effect in Vietnam to counter dumping and a price war.
It would also help improve airline safety, a major cost factor in the airline industry. Hoa said once airlines were committed to a price war, they were forced to cut corners and may not be able to meet safety standards. In the worst-case scenario in which an accident occurred, it will have a devastating effect on the whole industry as well as on national aviation security. 
Vietjet, Vietnam's largest budget airline and VNA's main competitor in the domestic market, however, was against the idea, saying it would hurt low-income consumers, especially those who have been adversely affected during the pandemic.
Having a floor price would force airlines to raise their prices simultaneously, which may bring up operating costs for businesses and may very well be counterproductive to the State's effort to rein in inflation, according to Vietjet. Increased prices would also hurt the country's tourism and airlines' ability to compete internationally. 
Vietjet said in recent years budget airlines have given millions of people access to air travel, making significant contributions to the State's coffers. Raising prices would likely hurt demand and, in turn, budget collection. 
Associate Prof. Dr Nguyen Thien Tong from the HCM City University of Technology said a floor price will likely hurt competition and discourage the development of privately-own airlines. 
Tong said rising prices may hurt tour operators as they now have even fewer options to offer consumers, especially low-budget travellers. 
Economist Dr Vu Dinh Anh said consumers are the ones to benefit the most from a competitive market, especially those in the middle and low-income groups. If a price floor was to be introduced, people would lose out on the chance to get affordable flight tickets, and airlines would also be deprived of a useful competitive tool.
Industry experts have long urged the Ministry of Transport to commit greater efforts to level the playing field, improve fairness and transparency, saying they are crucial in the long-term development of the airline industry. Many argued this is the time for the aviation authority to introduce incentives to help with the industry's recovery after it was hit hard by the pandemic, saying the revenue from domestic air travel is much needed for airlines to maintain and resume their operations.
In an earlier statement, the Civil Aviation Authority of Vietnam has said they considered the implementation of a floor price as an emergency and temporary measure in dealing with the pandemic.
Source: Vietnam News

In March 2020, there were only three flights in the skies of Vietnam. In July and August 2021, there were no flights at all.

If a proposed airfare scheme is applied, the fees will make it impossible for low-income earners to travel by air.