Agricultural ventures stack up despite lack of profit guarantee
The agricultural sector continues to see an influx of investment from domestic giants such as TH Group, Vinamilk, Masan, Vingroup, and Truong Hai Auto Corporation – but some are struggling to get profitable, with few enjoying significant development.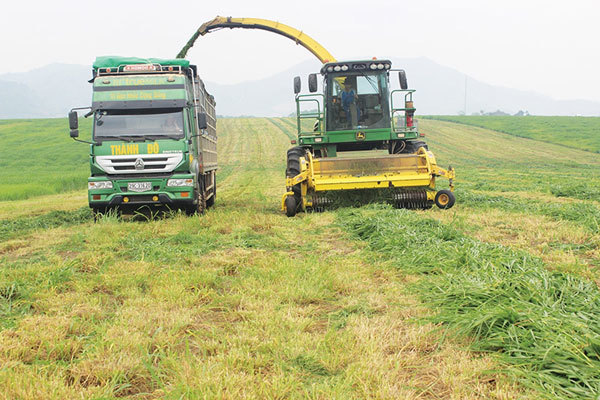 Agricultural ventures stack up despite lack of profit guarantee. -- Illustration photo
At Truong Hai Auto Corporation's (THACO) general shareholders' meeting in late May, the highlight was the announcement of the group's increased investment in the agricultural sector through Truong Hai Agriculture JSC (THAGRICO).
According to the group's strategy, beyond 2021, the group will spend $750 million on business and investment expansion. It is taking agriculture as its top priority by adding $387 million to THAGRICO. After the move, THAGRICO's charter capital will increase to $630 million.
The company will spend this money expanding cultivated land to grow fruit and expand its husbandry farms. In 2020, THAGRICO harvested over 172,000 tonnes of fruit. The figure is expected to increase to 334,000 tonnes in 2021 and the company will expand cultivation area by 2,265 hectares to 18,632ha.
In another case, Nova Consumer, which is an arm of Nova Group, is meanwhile concentrating on food, beverages, and nutrition. The company uses ingredients that are cared for and grown at Anova farms as well as producing other essential and common items.
The company is also focusing on bringing technology into agriculture, mastering the entire process from creating raw materials and production to distribution, creating a clean and safe food source.
Meanwhile over the past decade and more, TH Group, famous for its TH true MILK brand, has been operating a $1.2 billion farm cluster project in the central province of Nghe An's Nghia Dan district, featuring a state-of-the-art dairy cow farm and fresh milk production plant, which currently has 49,000 dairy cows and capacity of 400 tonnes of daily fresh milk.
The number of cattle will rise to over 200,000 by 2025, and the plant has a total annual capacity of 500,000 tonnes.
TH Group has also been implementing many other projects worth hundreds of millions of US dollars in provinces nationwide including Thanh Hoa, Ha Giang, An Giang, Cao Bang, Kon Tum, and Phu Yen. All farms will supply a huge volume of fresh milk for domestic consumption and export to China and Cambodia.
The agriculture and food sector has attracted many major companies with powerful financial capability. Apart from food manufacturers Hung Vuong and Masan, the sector has also lured Hoang Anh Gia Lai, Duc Long Gia Lai, Vingroup, and Hoa Phat, originally real estate developers and steel manufacturers. It is hoped that these leading investors can affect radical change and improve traditional agricultural methods.
These investments are expected to not only contribute to diversifying the supply source for the domestic market but also create momentum for export. The potential of agriculture is large, and investors are willing to spend billions for their new investment sector, however not all projects touch success.
Despite being backed by THACO, which officially operated International Hoang Anh Gia Lai JSC (HAGL Agrico) since January this year, HAGL Agrico is struggling to overcome losses.
At its annual shareholders' meeting on June 4, HAGL Agrico adjusted its business targets for 2021 due to the impact of the COVID-19, causing a plunge in output and quality of fruit and rubber products. The group has forecast revenues of $63.5 million and an overall loss of $3.65 million this year, a significant reduction from the $91.3 million and $695,000 set at the shareholders' meeting in January.
Back in 2018, THACO poured around $117 million into HAGL Agrico in order to pick up the company's bleak business. However, as of November 2020, it still shouldered total debts of $695 million and accumulated losses of $113 million.
HAGL Agrico is the subsidiary of real estate developer Hoang Anh Gia Lai Group. With huge investment capital of over $782 million, the group still expects to contribute to changing the face of Vietnam's agricultural sector.
Vingroup, well known for its high-end real estate projects and retail chains, also jumped into the agricultural sector. It established VinEco with the chartered capital of $87 million in projects and expected to remap the market of clean vegetables.
Under the management of VinCommerce, VinEco covered all the phases of agricultural production, from cultivation and harvesting to transport to distribution for its Vinmart and Vinmart+ chains. However, in late 2019 Vingroup transferred VinCommerce to Masan Group after suffering an after-tax loss of $77.4 million.
Vo Quan Huy, general director of Huy Long An – My Binh Co., Ltd., which manages 1,000ha of cultivated land across six provinces, told VIR, "Having huge amounts of money and good strategies are not enough alone to gain success in agriculture. Having a starting point in the agricultural sector will be an advantage because leaders will have deeper understanding in the sector and the company's products. Besides that, leaders must have passion for the sector and have to always think about how to make products better."
Source: VIR

Many Vietnamese farmers just need to press a button to grow vegetables and raise pigs, and click a mouse to sell vegetables in the global market.

Tran Ba Duong, a member of top 10 stock billionaire, president of Thaco, an automobile manufacturer, has joined hands with the 'King of Catfish' Duong Ngoc Minh, president of Hung Vuong Group (HVG).

Vietnam's largest conglomerate Vingroup has announced the sale of its retail and agricultural arms to Masan Group.