4% inflation target set for 2021 within reach: experts
Vietnam is likely to meet its target of reining in inflation at a rate of below 4% in 2021, although experts warn that unfavourable factors could impact market fluctuations.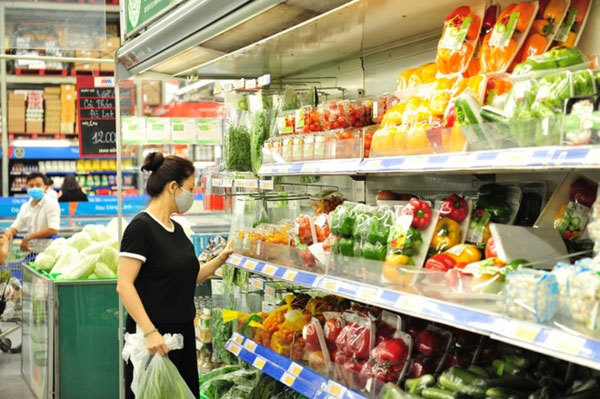 Despite unfavourable factors, including the COVID-19 pandemic and natural disasters, economic experts forecast Vietnam is likely to control its inflation at 4% for 2021. (Illustrative image).
According to the Price Management Department under the Ministry of Finance, the novel coronavirus (COVID-19) outbreak in 2020 had a comprehensive and far-reaching influence over the global economy, prompting it to fall into a deep recession. In addition, it disrupted the global supply chain, causing commodity prices to violently fluctuate in an unpredictable manner, especially the price of fuels such as petrol and oil.
With the country being part of the global supply chain it has borne the brunt of the pandemic, especially in terms of the negative affect on the law of supply and demand within the domestic market. Given these poor indicators, the Government has moved to swiftly direct relevant ministries, agencies, and localities to adopt sound and flexible price management measures in an effort to keep the consumer price index (CPI) at 3.23%, much lower than the 4% target set by the National Assembly (NA) for 2020.
Dr. Ngo Tri Long, a leading economic expert, notes that Vietnam did a stellar job in 2020, meeting its dual goal of economic recovery and epidemic prevention, along with dealing with the significant damage caused by swine flu and natural disasters, including severe flooding and landslides.
However, Dr. Nguyen Duc Do, deputy director of the Institute of Economics and Finance, warns that inflation is likely to rise during the year ahead following COVID-19 containment efforts and the gradual recovery of the economy. Moving forward, Dr. Do assumes that inflation in 2021 will not be too high as the national economy has yet to pick up full steam.
"Assuming that the basic inflation increases by an average of 0.23% per month, equivalent to the increase of 2019, and oil and petrol prices rise slightly, the CPI for December this year is projected to hover at around 3%, prompting the average inflation for the whole year to stay at more than 2%. In case of strong fluctuations in oil or food prices as seen in 2019, the average inflation this year is likely to remain below 3%," analyses Dr. Do.
Furthermore, Dr. Le Quoc Phuong, former official of the Ministry of Industry and Trade, forecasts the CPI for 2021 will expand to either between 4% to 4.5%, or between 3.8% and 4%, depending on whether or not the pandemic is completely brought under control and the global economy enjoys a total recovery. 
According to Dr. Ngo Tri Long, it remains very challenging to make a projection due to the erratic global market. He believes that the unpredictable developments caused by the COVID-19 pandemic will negatively affect the domestic economy and the banking system, thereby resulting in low economic and credit growth. In line with this, inflation will be put under great pressure from the impact of global prices, natural disasters, and epidemics.
"Given the context, price management and inflation control in 2021 should continue to be implemented in a prudent, flexible, and proactive manner, alongside closely monitoring any market changes, including the prices of essential commodities," Dr. Long recommends. "Moreover, the fiscal policy should be co-ordinated closely in parallel with the monetary policy and other macroeconomic policies to keep inflation in check. At the same time, the Government should introduce more measures to remove difficulties for production and business and support people affected by the COVID-19 pandemic."
A representative of the Price Management Department assures that the Ministry of Finance will closely watch any market fluctuations in the year ahead in order to regulate the law on supply and demand of commodities, especially for those with high consumption demands during peak seasons. This will be done as part of efforts to control inflation at below 4% as set by the NA.  VOV

Although many forecasts said that inflation would be controlled at less than four per cent this year, economists recommended it was still important to pay attention to inflationary pressures.

The inflation in 2020 is forecast at 3.3%, significantly lower than the target of 4% set by the government.